26

Dec, 2022
Will surpass Romario and Ronaldo." Real Madrid pay a lot of money for 16-year-old Andrik – who is he?
By Lyubov Kurchavova.
The World Cup left one of the most interesting transfers of the winter in the shadows – Real bought 16-year-old Andrik from Palmeiras. The same guy who is called the future megastar. Endrik will move to Madrid in July 2024, he will be given 35 million euros, another 25 million are calculated on bonuses.
What is this unique thing for which they pay such money at 16?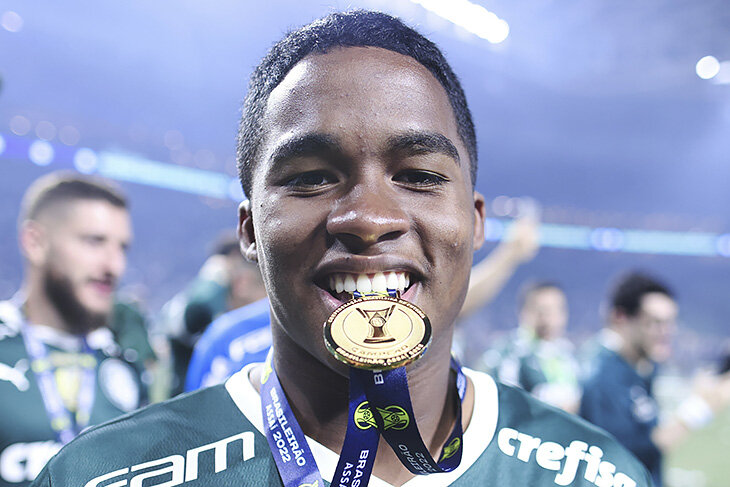 ***
On January 19, in the quarterfinals of Copiña, the Sao Paulo youth championship, Palmeiras and Oeste played. By the end of the warm-up, scouts from Barcelona, ​​Arsenal, Liverpool, Manchester City, Southampton, Ajax and Benfica had gathered in the stands.
They were interested in 15-year-old Endrik.
The forward was 4-5 years younger than his rivals, but he still tore apart – before the game with Oeste, he had already scored 4 goals. Even Neymar did not start so brightly at Kopinje.
But none of the European scouts expected this from Andrik. In the 13th minute of the game with Oeste, the ball hit the lawn in front of him, and the guy, without hesitation, shot with a bicicleta from outside the penalty area. Goal.
"Wow, it's him again," Gary Lineker tweeted. – He is 15 years old. Perhaps we are witnessing the birth of a special talent."
"I don't know if you noticed, but Andrik did everything with his eyesight at this moment," said the forward's father, Douglas Souza, in an interview with ESPN. – He hit, looking at the gate. He already knew that the goalkeeper went out a little, and he understood that a goal could come out of this. Only top-class players can do this."
Endrik did not stop and scored in the final of Copinha, where Palmeiras defeated Santos 4-0. After 6 goals in 7 matches, he was recognized as the most valuable player of the tournament.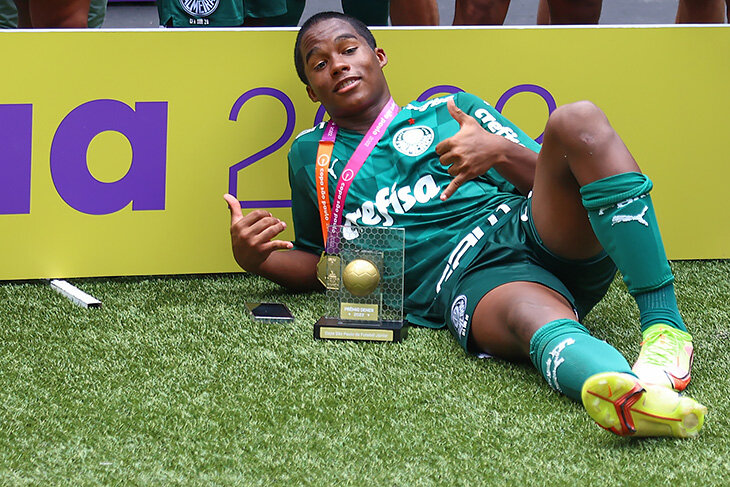 The father posted videos of Andrik's goals on YouTube in order to find a club for his son. Sao Paulo, Corinthians and Santos were in the race, but Palmeiras won
Douglas Souza tried to turn pro – at 15 he traveled from Brasília to São Paulo hoping to be screened, but no one signed him.
"My parents got divorced," Andrik's dad said in an interview with Marca. – I didn't have a father when I needed a person who would support me in difficult moments and help with decision-making. Then I realized that in the world of football it is very important that you are surrounded by the right people and family.
Therefore, I wanted to always be close to my son, like my wife. I will always be there, because I missed it in my youth. It was very painful to grow up without a father, and I will not allow my son to experience this."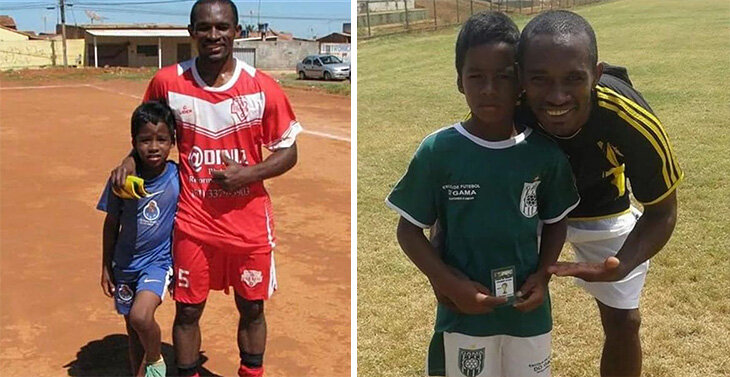 Endrik took up football at 4, and at 6 he was already so distinguished from the rest that the coach allowed him to use only his right foot. Seeing the talent, the father took up his son's career tightly: he posted videos of his goals on YouTube to interest the best Brazilian clubs. It worked: Sao Paulo and Corinthians were ready to pay Andrik a 150 reais (almost $30) scholarship, and Santos offered the guy a screening (but he had to travel at his own expense). There was still no ideal offer, and then Palmeiras intervened – the club was ready to rent a house for Andrik and his family near the base and find him a suitable school.
"It was the only thing I asked for," Endrik's father said in an interview with Lance. "We needed the opportunity to go with him."
So the 10-year-old striker ended up in Palmeiras.
Endrik grew up in poverty – once he cried from hunger. His parents sold food at the train station after moving to Sao Paulo
In Brasilia, Andric's family lived very poorly.
"I remember once I was sitting on the couch, and Andrik said:" Dad, I want to eat, "the striker's father recalled in an interview with Lance. There was nothing in the fridge or in the cupboard. But he asked and asked and asked. I said there was nothing and started crying. Endrik also cried and replied: "Dad, I will become a football player and get us out of this."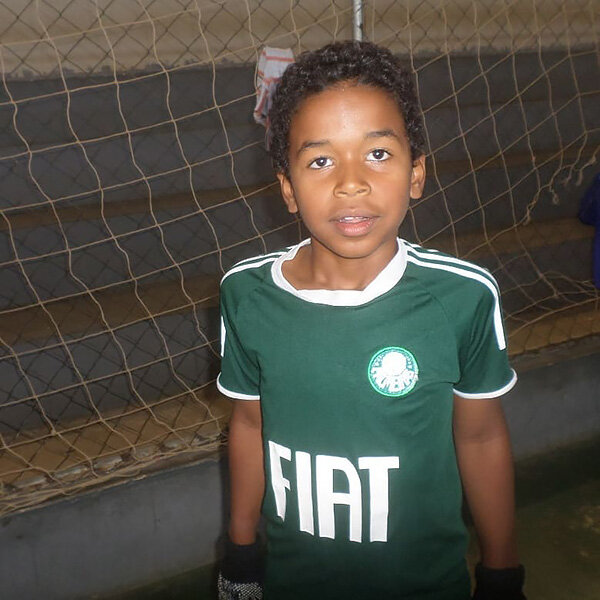 "It was difficult," Andrik recalled in an interview with The Athletic. "The first word that comes to my mind is power. You had to be strong to survive and get through what I went through."
For the first six months in São Paulo, Andrik's parents could not find work, so they sold ready-made breakfasts at the Barra Funda metro station in order to earn at least something.
"After the move, it was very difficult," recalled Cynthia, Andrik's mother. – I remember that we even thought about returning home, but decided to stay for the sake of our son's happiness. Sometimes I cried, but I did it in such a way that Andrik would not see.
"My wife moved first, and I stayed in Brasilia to play football and send her money," Andrik's father said. – In São Paulo, she bought instant noodles, bread… Just something to eat. I moved after six months. We had great difficulties: we got up at 4:30 in the morning, made coffee and muffins, put them in a cart, and then sold them at the subway. We had money for rice and some other things, but they were still not enough. If we had at least some money, then we went to the market and chose lower quality products in order to save money.
Upon learning of this, Palmeiras offered Andrik's father to become a cleaner at the club base.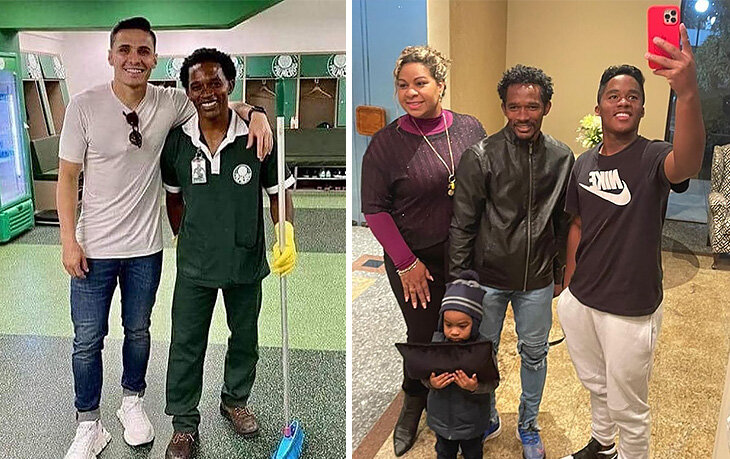 Sometimes Douglas Souza dined with the players of the first team and always took only soup. This surprised Gilson, the Palmeiras goalkeeper, so one day he approached Sousa to find out what was the matter. It turned out that Andrik's father simply could not chew – he had only seven teeth. Shocked, Jailson paid for his dental treatment, and thanks to Felipe Melo, Andrik got a technical sponsor.
Palmeiras opened their doors to us and we should just thank this club," Endrik said in an interview with Globo Esporte. They gave me everything. Their efforts were essential to our lives."
Endrik is handed out a lot of advances, but his start is impressive. 165 goals in 169 youth matches!
When Endrik was 9, he played for the U11 team in the final of a local tournament. He was released 10 minutes before the end, Palmeiras was one goal behind. Endrik first equalized, and in stoppage time he went half the field on dribbling and scored the winner. "That's when I thought, 'Yes, he's special,'" Andrik's father admitted in an interview with The Athletic.
At 14, Endrik made his debut for Palmeiras U17, at 15 for the U20 team. In 2021, he became the first to play in the final stages of the Sao Paulo Youth Championships in three age categories in a season – U15, U17 and U20.
Andrik also scored 165 goals in 169 matches for Palmeiras youth teams.
"Endrik stood out right away," said Joao Paulo Sampaio, Palmeiras academy coordinator. – Immediately after the transfer, he hit Santos with a bicicleta in the first game of the U11 State Championship playoffs. And in the second match, which was watched by 22,000 spectators, he scored the winner and brought us a trophy. He is ready for any challenge. Endrik is like a force of nature. Water always flows downwards, flames always burn upwards. So is he – he can't be restrained."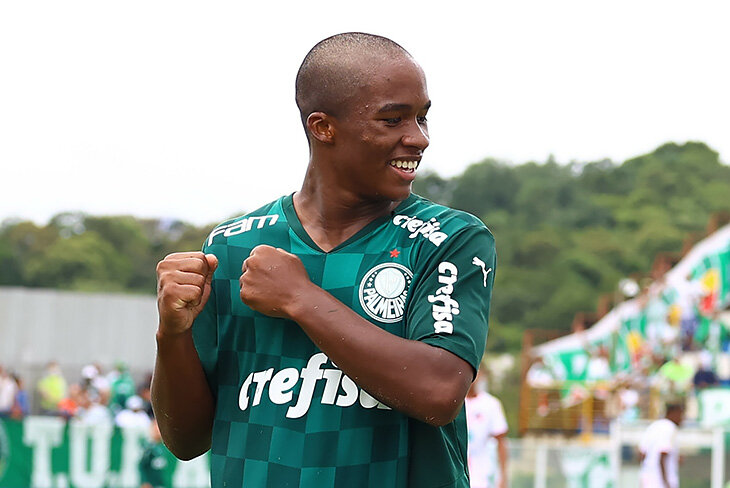 "He can reach an incredible technical level and become a major discovery since Neymar," wrote ex-Brazil striker Walter Casagrande in a column for Globo Esporte. But for that, you need to take care of him. He needs to be protected from what will surround him.
Endrik played for the first time on October 7, 2022, coming out on 21 minutes in the Palmeiras 4-0 game against Curitiba. At 16 years, 2 months and 16 days old, he became the youngest debutant in the history of the club.
The first goals came quickly – on October 26, Endrik came on as a substitute at half-time between Palmeiras and Atlético Paranaense (3:1) and scored a double. Only one player scored in the Brazilian championship at a younger age – Toninho in 1978 (Endrik was 16 years, 3 months and 5 days, and Toninho – 15 years, 9 months and 16 days). For the next game of the championship, Andrik started and scored again, and Palmeiras defeated Fortaleza (4: 0).
"It is a pity that we will not be able to enjoy the game of Andrik in Brazil for a long time," lamented the ex-player of Corinthians and the national team, Jose Ferreira Neto, on Rede Bandeirantes. "He will surpass Romario and Ronaldo."
It seems that his father will not let Andrik lose his head. "It is useless to think that you are the best if you do not train, do not make efforts and do not concentrate," Souza said about his son.
Andrik is a fan of Ronaldo, although everyone around loves Messi and Neymar
Endrik's idol is Cristiano Ronaldo. He explained the choice by the composure of the Portuguese. "He is very calm in front of the goal," Endrik said. I need to learn this from him. Before matches, I think about Ronaldo and Ronaldo. I try to follow them. When a match gets really hard, I'll forgive the guys for passing to me because I have that spirit. I want to score goals. I always want more."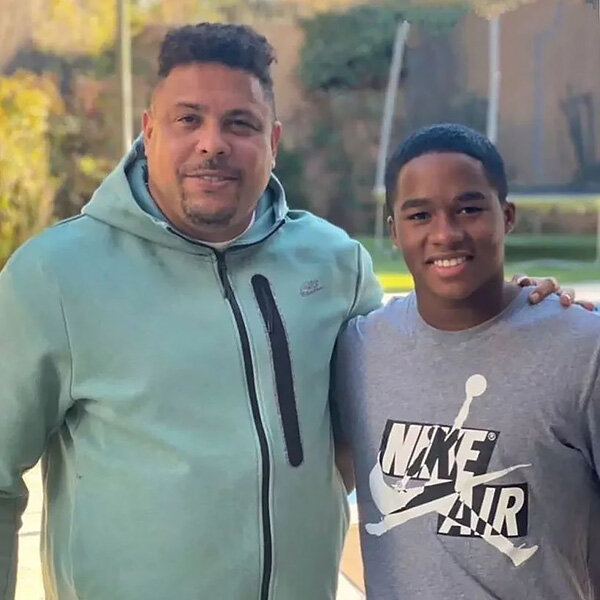 "When Endrik was 15, everyone was crazy about Neymar and Messi, and he said that his idol was Cristiano because he was a robot," Andrik's father told Marca. – He is a professional who loves challenges. Cristiano is an example for Andrik. My son told me that he wanted to make history, just like him. Endrik is so focused on the pitch, he doesn't let the ball go, he gives 110%… It's a machine. When he scores one goal, he wants another. The harder the challenge, the more he likes it."
"I know that Cristiano Ronaldo is his favorite player, but he never told me about it directly," said Sampaio. – He looks like Romario, and also a little like Ronaldo. He is left-footed, with excellent technique and power, and he is also lucky with his genes. From the point of view of physics, this is a miracle – in his years he can accelerate to 36.5 km / h. Few people are capable of it. He is very explosive. In addition, he constantly watches cuts of the game of top football players in order to be better.
***
"I'm a hardworking player," Andrik told The Athletic. – I'm focused on goals – I always want to score more. This is a key moment for me – I always want the unattainable. There is no moment when I don't want anything.
I will always fight. I am persistent and I will try to do something until the last minute of the match. I never give up, I press defenders and I run more than anyone else on the field.
Before every match I have butterflies in my stomach. But after entering the field, I forget about everything and abstract. I get nervous before the games, but after the final whistle I pass out.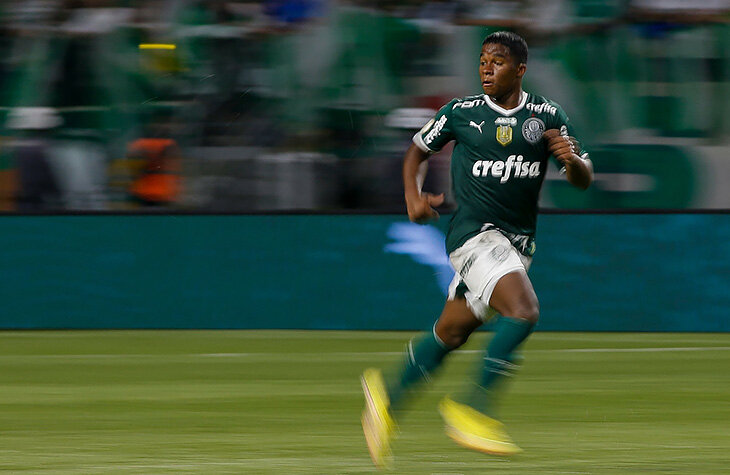 They wrote about the interest of European tops in Andrik for a long time. Real Madrid, Barcelona, ​​Liverpool, Chelsea and others were named among the contenders.
"I won't lie: before going to bed I dream about it," Endrik said most recently. "But then it passes, and I return my thoughts to the present. I try not to think about the future. If you focus on the present, the future will come faster."
The fight was won by Real Madrid. The striker will move to Madrid for a lot of money (35+25 million euros and another 12 million euros in taxes) – players under 17 have not been paid that much yet.
The dream will come true in a year and a half.
And what will the new one be?