22

Jan, 2023
Why does no one take Dziuba? 15 RPL clubs do not need it, but there is 1 option
Conclusions on the game.
For the second consecutive transfer window, Artem Dzyuba turns out to be a free agent, but does not cause a stir in the RPL.
In the summer, Dzyuba did not receive a single acceptable offer from Russia and trained with Rubin, who had taken off from the RPL. At the same time, rumors spread about Turkey: he was sent to Fenerbahce , the agent of Magomed Ozdoev spoke about the interest of Galatasaray, and then the striker moved to Adana Demirspor. He even scored in his debut match, but quickly ended up on the bench, and in early November, tired of being a substitute, he terminated the contract – even at the age of 18, Dziuba played more often.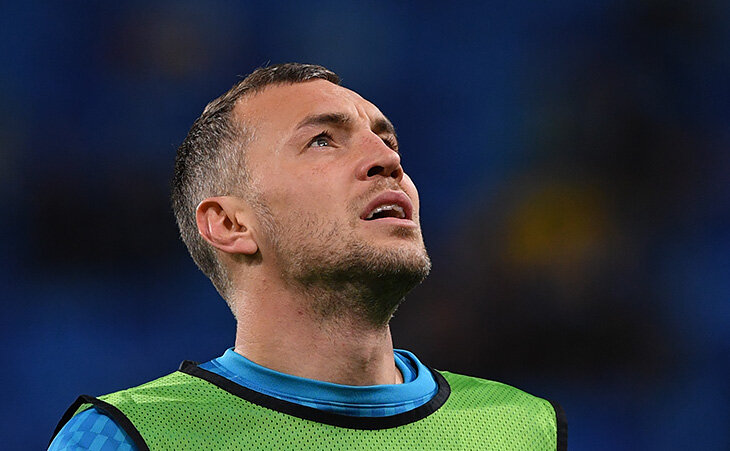 By winter, Dzyuba had not found a team. It seems that Torpedo was the most realistic option – its president, Ilya Gerkus , allowed the transition back at the end of November. A few days ago, journalist Sevastian Terletsky reported that Artem was going to the Torpedo training camp (the club almost immediately denied it), and on Friday Herkus announced that the issue was closed and the club was considering other central forwards.
Why do RPL clubs refuse the top scorer in the history of the championship?
What's wrong with Torpedo? He does not fit the requirements of Talalaev, the team would have to rebuild
According to insider Ivan Karpov, the board of directors of Torpedo abandoned Dziuba due to poor form, potential problems in the locker room and the negative reaction of the fans.
It is likely that the negotiations also broke down because of Andrey Talalaev's possible doubts. Before the winter break, the head coach spoke in detail about the transfer goals: "We need a quick striker who can complete the team's efforts. There were a few good breaks. We understand that Laptev and Lebedenko will not run away, they play well in the fight between the lines. Turishchev does not sell yet. We need a fast hitter.
There are no fast forwards under the age of 33-34 on the Russian market. We already have one of the oldest teams. There are reasons to use all options. I can say frankly: we are looking at the Latin American and African markets."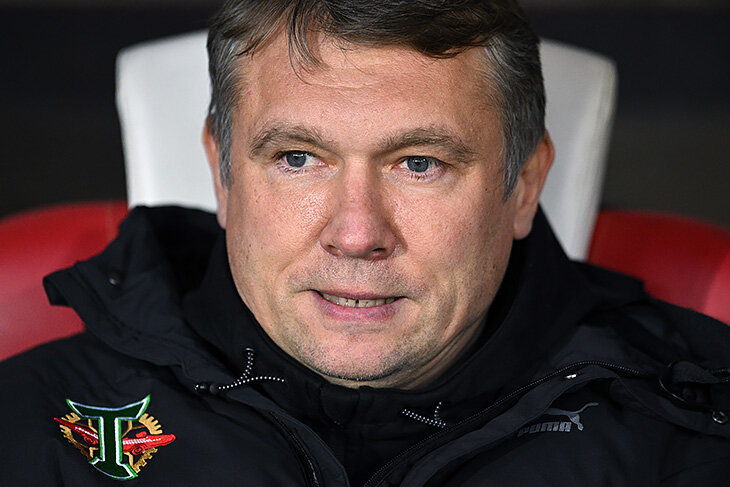 In addition, Talalaev's requirements for speed are revealed by earlier interviews. For example, in August 2022, back in the days of Akhmat, he walked over Hamid Agalarov: "We have a lot of qualified strikers in Akhmat, we need to win the competition. In Ufa, Agalarov played a little differently. It never happens to me that a striker has an average speed in a game less than central defenders. He has to rebuild, he's doing a great job."
Talalaev's conversation with Ural striker Alexei Kashtanov on the air of Commentary Show is also noteworthy: "You ran 12,200 meters in the match with Torpedo. Didn't notice how much you ran at speed? Not? Well, that's right. I tell the attackers all the time: "Score in every game – and I won't be interested in how much you run at all."
Talalaev voiced something similar in the program "This is football. Results". I recommend listening to the full explanation , but the most accurate requirements for the mileage and jerks of the attackers are here: "I have Konate or Ilyin, who came from Krasnodar, running 1000 meters of high-speed work. Ilyin ran 1200-1300 meters before leaving for Krasnodar, now he has returned and runs less, because he played little and other training process. After a while he will run again, he will have more chances, and we will have more interceptions in the opponent's half, which means more open spaces.
Torpedo is a counter-attacking team that needs to implement fast breaks, and Talalaev says bluntly that he needs an escaping and driving forward. Under Talalaev, Torpedo is much more intense and bolder than in the first part of the season: before his appointment, they were 14th in PPDA (an indicator of the intensity of pressure), after – 6th.
In "Zenith" after the departure of Dzyuba, a similar situation. Obviously, Ivan Sergeev is not such a great striker, but Sergei Semak chooses him because of his ability to work: Ivan puts pressure more actively, puts pressure on the goalkeeper, plays on the opponents' defensive midfielder and goes down into the depths, while Zenit had to adapt to Dziuba even in his peak years.
At the moment we do not have detailed tracking data for Dzyuba, but visually he definitely does not fit Talalaev's requirements: he is focused on a more static game and less disciplined pressing.
Theoretically, Dziuba could strengthen Torpedo. Still, he has an excellent range of skills: he successfully fights in the penalty area, gives penetrating passes, at a distance of several seasons he successfully converted chances and was useful even during dry streaks. In the second half of the championship, Artem may well knock out 6-7 points on "goal + pass" (whereas Torpedo scored as many as 7 goals in 17 rounds!), But for this, Talalaev will have to completely change the basic principles laid down in the fall and winter training camps . Most likely, the coach is not ready for this.
What about other clubs? Sochi, Orenburg and Pari NN have publicly abandoned Dzyuba, and the top 6 are well-equipped
● In the summer , Sochi and Pari NN were called contenders for Dziuba , but in winter they clearly indicated that they were not interested:
"I personally didn't have a dialogue with him, but there were certain people who called our club and offered his services. The policy of our club is not to take players for big money. Yes, he is a star player, but already old. There have been and will not be any negotiations with Artem Dzyuba, "explained the general director of Pari NN, Ravil Izmailov (but on January 21, insider Ivan Karpov said that the transition is still possible);
"It wasn't interesting and I don't think it will be. We have our own tasks – we develop young guys, "said the owner of Sochi, Boris Rotenberg.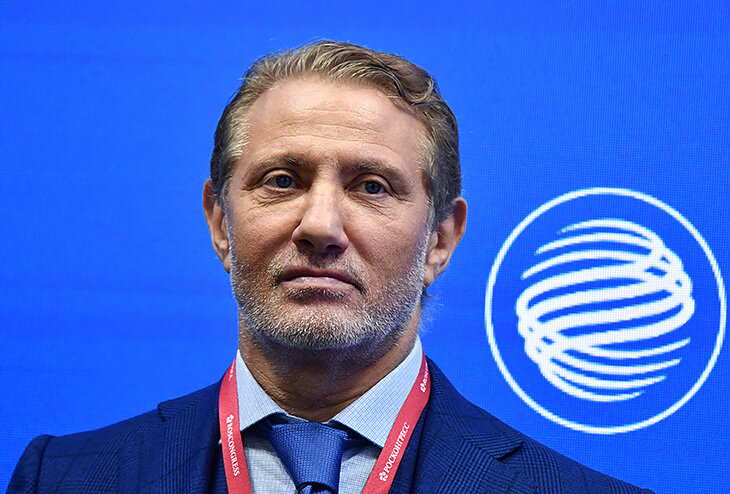 ● A similar story – with "Ural" and "Khimki" . Dziuba is individually stronger than potential competitors. Viktor Goncharenko has quite flexible requirements for attackers in terms of pressing, but the team's top scorer Alexei Kashtanov said that Ural's defense starts with a forward and therefore he runs a lot even in games against Torpedo. Gogniev's demands are even tougher (if this does not apply to Ilya Sadygov in the last minutes), although everyone would like to see Dzyuba in round dances near Moscow.
● Orenburg head coach Marcel Lichka spoke in more detail: "Artem Dziuba is certainly a great player. But I would not like to see him in Orenburg. I want my attackers to constantly press. They ran behind the backs of the defenders, played intense football. Artem is still a forward of a different plan. He clings to balls well, helps on set pieces, is great when playing with his back to goal. But it would be difficult for me to fit it into the Orenburg game system.
In no case do I want to call Dzyuba a weak forward. This is a very smart striker. I think he is capable of being a leader in the dressing room. If Dziuba became an uncle for the rest of the Orenburg players, would go on the field as a substitute when it was required by the situation, then I would probably consider such an option. But if we talk about the role of the main striker of our team, then I have other options in attack.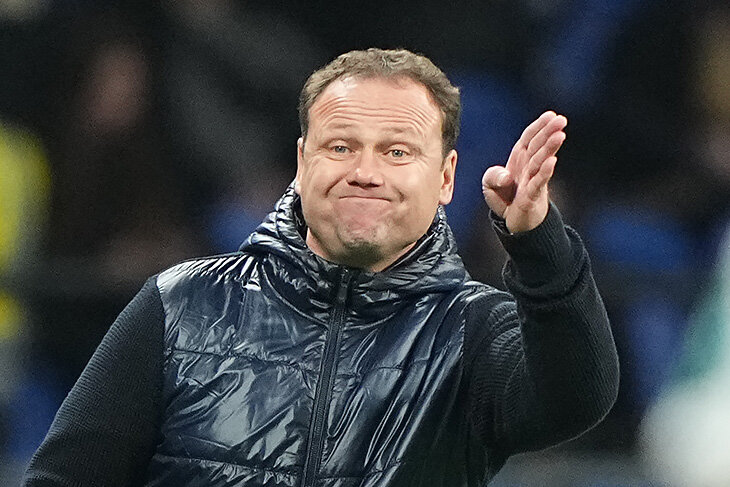 ● Krasnodar 's interest is also unlikely. John Cordoba provides more volume: he puts his back in the fight, throws off the ball, runs behind his back and is very dangerous in counterattacks, while Dzyuba is definitely not ready for the role of a substitute and does not differ in speed. The new head coach of Krasnodar, Vladimir Ivic, said that he adapts to the skills of the team, but he prefers aggressive football with high pressure – usually Krasnodar also selects players for such requirements.
● The appearance of Dzyuba in the top 6 is almost impossible: he recently left Zenit , Spartak is definitely pleased with the connection between Sobolev and Promes, the alliance with Valery Karpin has not been renewed even for the sake of the national team, and for the sake of Rostov it will not work, all the more, in " Dynamo " – Fedor Smolov, Konstantin Tyukavin and Vyacheslav Grulev, in CSKA the clear leader is Fedor Chalov and two pillars in reserve (although Artem is much stronger than Anton Zabolotny and Adolfo Gaich, but again – Dzyuba will not go to the reserve), but in Akhmat " and so many forwards (Mohamed Konate, Vladimir Ilyin and Hamid Agalarov).
"Torch" is the most suitable option for Dziuba. "Loco" and "Wings" – with a stretch
● Stylistically ideal for Dzyuba – "Torch" . Voronezh need a quality striker-benchmark with good implementation and transfer under attack. Fakel's main striker Khyzyr Appaev hit 2.04 xG and scored 1 goal in 1418 minutes in the RPL. Maksim Maksimov and Georgiy Gongadze created a little more in less playing time, but almost never give up passes under attack (no more than 1.27 in terms of 90 minutes).
"We knew that we knew how to press, but we understood that in the RPL we would not be able to constantly press on the opponent's half, so we transferred the pressure to the middle block. Fast attacks, vertical play, set pieces – what Fakel should have at least kept, or better developed, "Oleg Vasilenko said in an interview with Sports.ru after his dismissal.
After the appointment of Dmitry Pyatibratov, Fakel became even more accurate in pressure and attacks. Given the focus on the flanks, the power of Dzyuba in the penalty area can be very useful. But will Fakel pull such a deal financially?
● Lokomotiv is a logical option against the backdrop of the autumn collapse of both sides and the desire for revenge. Dzyuba is much stronger than Marko Rakonyats and Ivan Ignatiev and should have a great match with Anton Miranchuk and Sergey Pinyaev, plus Rifat Zhemaletdinov will recover soon – there is a chance for a high-quality pipeline of chances in different styles (fighting in the penalty area and playing along). At the same time, it is necessary to take into account the presence of Maxim Glushenkov – it is far from a fact that Galaktionov will use two forwards (although in the first friendly game the newcomer from Krylia played on the right in attack).