26

Jan, 2023
What kind of driver was Vettel? Looked like Senna and Schumacher, surprised with intelligence and impulsiveness
Statistics don't measure greatness, but Sebastian Vettel's four World Championships, 53 wins and 57 pole positions automatically qualify him for that status. The only question is the question of size: how big it is. Let's try to figure it out…
The career trajectory of Sebastian Vettel is curious. He quickly went through the junior series. Almost instantly he achieved success in the middle team of Toro Rosso. Until the age of 27, he won all the major trophies for the Red Bull team.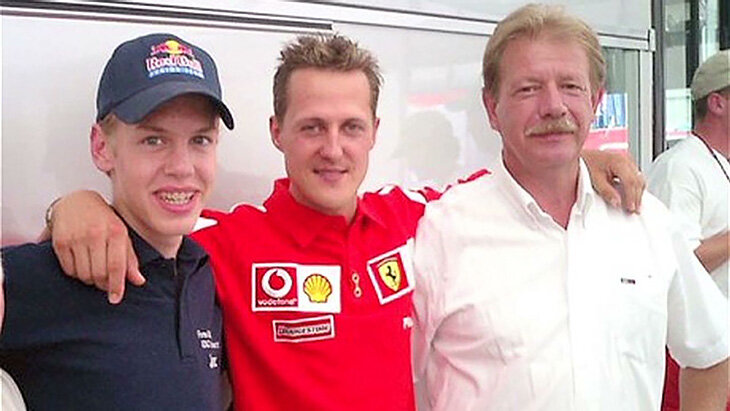 When Vettel exercised his right to terminate the contract to join Ferrari in 2015, success seemed within reach. Just as his mentor Michael Schumacher's early success at Benetton was just a prelude to his glory days at Ferrari, so Vettel's tenure at Red Bull could just be the preamble to something amazing.
But six years at Maranello brought disappointment, followed by a disastrous two years at Aston Martin in terms of results. To appreciate the greatness of Vettel, you first need to weigh the two halves of this unbalanced career.
Early Vettel (2007-2013) was a phenomenon. Speak to those who worked with him as he went from budding kart driver to superstar and their opinion will remain the same. Yes, the German was fast, but there are many fast riders. What distinguished Vettel was attention to detail, dedication, determination not to miss a single stone. Schumacher was the prototype of the modern all-rounder, and Vettel followed suit exactly.
"Many drivers have the skill, the talent," says Franz Tost, Vettel's team boss at Toro Rosso in 2007/08. – In the past, there were a couple of racers who could win the championship only due to speed. But they were either stupid or something else. They couldn't get it together because they didn't understand what ingredients needed to be put together to be a successful racer."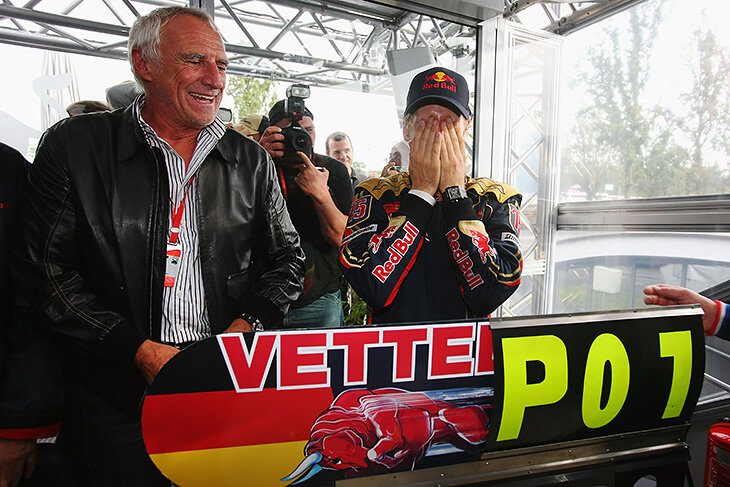 The toast is characteristically brutal but precise. It takes years for many riders to accept this reality. Some never accept it, but Vettel already understood everything even before he came to Formula 1. If you talk to Frederik Wasser, who is now the director of the Ferrari team, and then was the head of the ASM team in Formula 3, for which Vettel drove in 2006. So Vasser said the same thing. Vettel had a huge appetite for self-improvement.
This was reflected in his approach when he managed to become a Formula 1 driver. During his years at Toro Rosso, he honed his aerobatics, taking it apart and understanding what he needed to be fast. If there is a powerful front of the car and a stable rear for confident entry into the turn, then Vettel is unstoppable. The German used this scheme in the Red Bull team.
Like all great racers, Sebastian made excellent technique even better. Exhaust aerodynamics have been around in various forms for the four years that Vettel won the title in 2010-2013, but it was his diligence and skill at adapting the technique that made the most of it.
The throttle was not only a means of transmitting power to the wheels, but also a gas pump to create an aerodynamic load. At times, this required the use of counter-intuitive technology that gave the car more downforce and, crucially, delivered it in the way and at the time Vettel needed to give him a stable rear end. In what Vettel did, there were echoes of the legendary technique of Ayrton Senna – he was so good.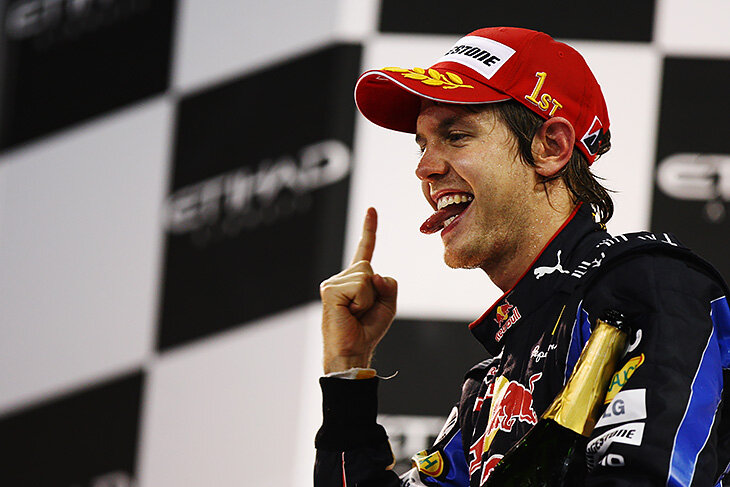 It was the peak Sebastian, who won, it seemed, an endless number of pole positions and dominant victories. While these were usually the lead triumphs that the car (which typically had more downforce and drag than its rivals) demanded, there were some breakthrough victories as well. In particular, the victorious overtaking of Alonso on the grass in Monza in 2011, and in 2012 he managed to return from last to sixth place in Interlagos after a collision with Bruno Senna on the first lap. As a result – the third title in a row.
Vettel during this period was truly outstanding, comparable to the best pilots.
But there were moments in this era that hinted at coming weaknesses. There were mistakes, especially in 2010, and disagreements with teammate Mark Webber that foreshadowed what was to come during his Ferrari years.
After Vettel lost to young teammate Daniel Ricciardo in 2014, a season in which Vettel performed better than many remember (and experienced more than his fair share of car problems), but which was still weaker than previous ones, he wanted to leave for Ferrari ".
Everything started great: the first victory was already in the second race in Malaysia. Three wins in a season. But Ferrari's inherent instability had already shown itself in the fact that Luca di Montezemolo, who was instrumental in bringing in the German, left before Vettel arrived.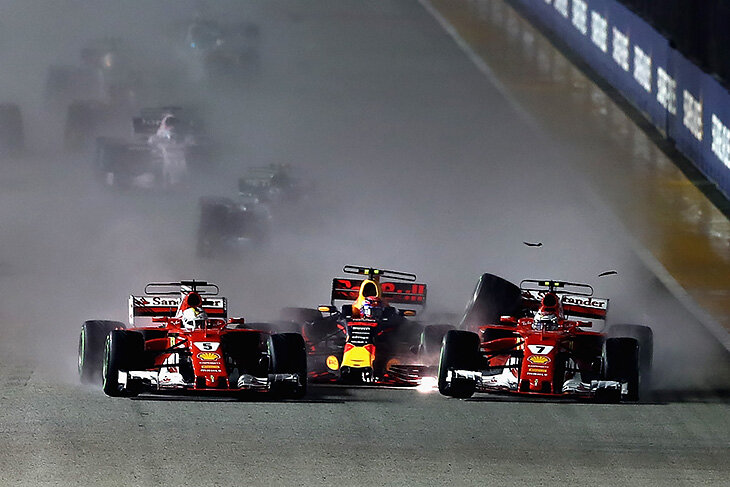 The peak of Vettel's career at Ferrari was 2017 and 2018. In the first of these years, he was level with Lewis Hamilton before the final seven races of the season. But at the start of the Singapore Grand Prix, the German provoked an accident that disabled both team cars and Max Verstappen. Ferrari's reliability issues would likely have made it difficult to end the title race, but Singapore's result ruined Vettel's momentum.
However, a more revealing incident was when Sebastian lost his temper and deliberately crashed into Hamilton under the safety car in Baku. It was an exceptional moment of aggression that could not be justified by his annoyance at what he considered Hamilton's machinations before the restart, and which was completely out of line with the German's affable, easy-going nature. Even Vettel seemed to have a hard time coming to terms with his inexcusable actions.
In 2018, Ferrari became better in all aspects, but Sebastian himself began to make mistakes more often. Retiring while leading in difficult conditions at Hockenheim is considered the point at which the season went wrong for Vettel – and it was a blow – but the error rate in the races was too high after that.
And these mistakes were indicative. At Red Bull, they happened, but not with such frequency, and the situation and the inconstancy of Ferrari clearly did not benefit Vettel. He felt at odds with the team's management, especially in recent years, and did not respond well to the challenge posed by new teammate Charles Leclerc.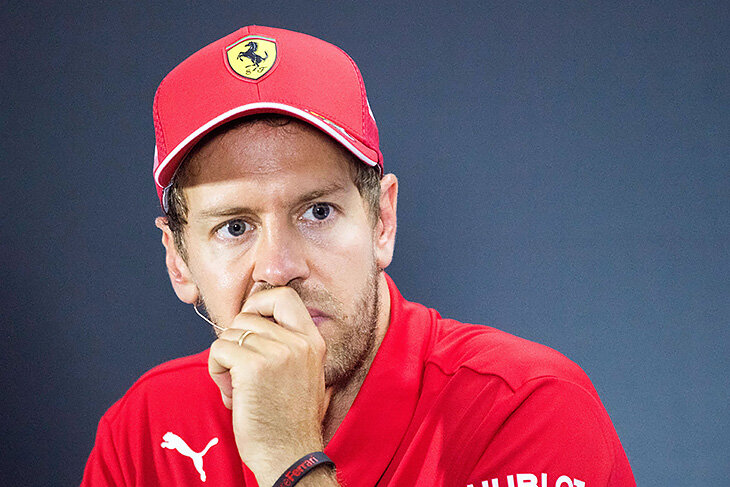 So which one is the real Vettel? The fact that this is an obvious question is symptomatic of its only weakness, which is that it needed a narrow set of conditions – both in terms of environment and vehicle dynamics – to be at its brilliant best. Then he was as good as anyone ever.
Outside that window, Sebastian was a more fickle performer, a trait that intensified after he was seduced by Ferrari's understandable appeal, which plunged him into an environment very different from the one he thrived in at Red Bull.
Sebastian was an imperfect genius, perhaps one of the most human of the great Formula 1 champions. This is what made him so popular, even if the emotional instability sometimes went beyond.
Although he did not become an all-time champion, Vettel deserves to be remembered at his best, when he did seemingly impossible things at the wheel of Red Bull.