14

Jan, 2023
Weghorst at Manchester United is a great temporary solution. It's a clean nine and a powerful pressing machine
Replacement for Ronaldo.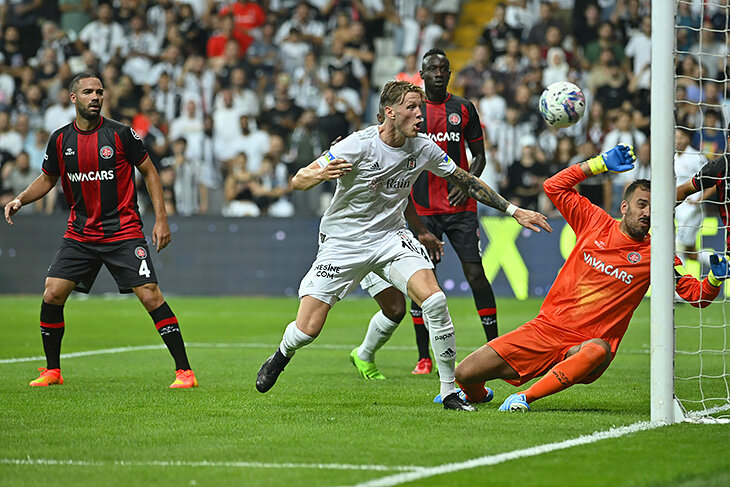 Wout Wegorst is the new Manchester United striker. The club loaned the Dutchman until the end of the season.
They were so interested in the 30-year-old striker that they quickly agreed to terminate Vegorst's current loan at Besiktas. He has been playing there since the summer of 2022, while Burnley are trying to return from the Championship to the Premier League. Besiktas will receive €3m compensation from Manchester United for stopping the one-year deal. Sky Sports reported that, taking into account the commission for the loan and the salary of the player, Manchester United will spend a total of 4.5 million euros.
The Athletic has previously revealed that Erik ten Hag was keen on loaning Wegorst.
Wegorst is a pure center forward. All goals in the Bundesliga are scored from the box.
Wout scored 59 goals for Wolfsburg in the Bundesliga from July 2018 to January 2022. All 59 – shots from the penalty area. In the German club, he stylistically continued the traditions of Edin Dzeko and Bas Dost. Only Robert Lewandowski (120) scored more during Wegorst's Bundesliga period.
Weghorst's main quality – you'll never guess – is the search for a striking position in the penalty area. He stands out strongly in anthropometry with a height of 197 cm and very long legs. Let sometimes it acts clumsily, a little woodenly, but all this is forgotten with a good canopy or backache. In the first case, he will jump out and plunge his head in, in the second, he will win a couple of centimeters due to his stick-leg.
Of course, physical data is a good foundation, but not an exhaustive explanation of Wegorst's danger in the penalty area. Wow moves great.
Before a pass/cross, he hides in the blind zone of the defenders behind their backs, where the attacker is more difficult to control – you have to constantly rush half a turn between the ball and Wegorst. Wout always plays with an extended tip, gets carte blanche for any position in the penalty area that is convenient for him, the partners are looking for space, starting from Weghorst's choice.
With a pass / cross, Wegorst nightmares the defenders by changing the movement vector. He scored a lot of goals when he first twitched behind the back of the defender, and then abruptly flew out in front of him. Or vice versa: he ran up, as if wanting to play ahead of the curve, and then went behind his back and calmly put the ball into the goal.
A routine that is fun to follow. Wegorst is well aware of limitations. He does not have technical dribbling, he will not be able to enter the penalty area on a dash or shoot with a dribble from outside it, so without a smart scrupulous search for a position in a filled box there will be no goals.
Manchester United are 17th in crosses in the Premier League (13.9 per match), but with Wegorst they will almost certainly rise. There is nothing wrong with opening buses through crosses, and now there will be a working option for straight-line football. Ten Hag calmly used this weapon in Ajax with Sebastian Aller. Luke Shaw will surely be delighted.
As his career progressed, Wegorst progressed and became more varied. He began to score more in counterattacks, adding neat parachutes over the goalkeeper to his toolbox. And I learned to catch the timing for running behind the backs in positional attacks under sharpening low passes.