12

Jan, 2023
The story of Marcelo Gallardo: he was beaten by Galtier, inspired by Bielsa and praised by Guardiola
Soon, the coach who prepared Mammana, Driussi and Kranevitter for Zenit won the second Copa Libertadores in three years.
The following year, he again took fifth place, but already in the ranking of the best coaches in the world according to the International Federation of Football History and Statistics. After Klopp, Guardiola, Ten Hag and Pochettino.
In 8 years at Rivera, Gallardo took 14 titles and his move to Europe is the main coaching intrigue of 2023.
Marcelo's coaching career began with faith in Recoba and a conflict with management
On May 12, 2011, Gallardo played the last match of his career and promised his wife a joint six-month vacation. And a week and a half later I heard from the general director of the Uruguayan Nacional, Daniel Henriquez.
– For a year you have studied the club, proved to be a leader – be our head coach (El Gráfico journalist Diego Borinsky cited this dialogue in the first book about Gallardo).
"You surprise me," Marcelo said. – Let me think. 
– What to think? Copa Libertadores ahead. In terms of infrastructure, we lose to everyone, but on the field we will compete with anyone. We are Uruguayans, two-time world champions, and half the country supports our club.
"You will be one of the five most important people in Uruguay," added Nacional president Ricardo Alarcón. – We have the most important presidents of the country and Nacional with Peñarol, as well as the head coaches of these clubs.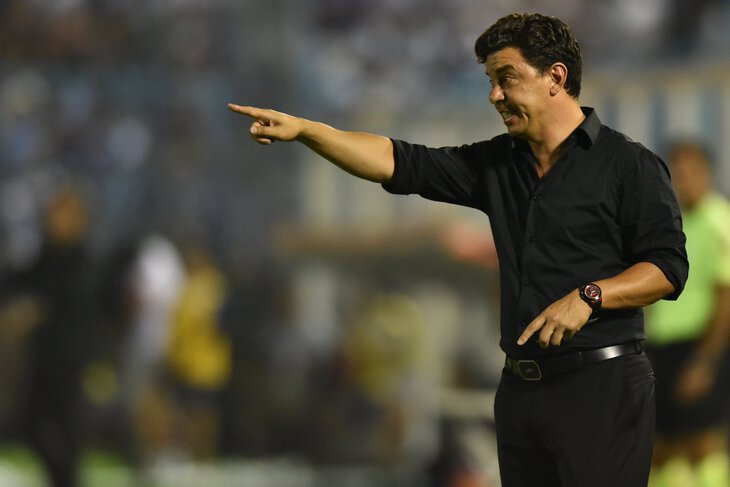 Gallardo agreed, but failed to start the championship – 2 wins in 7 rounds. He also ruined relations with the bosses, who imposed tough defender Joe Beaser from Peñarol in order to annoy competitors and strengthen protection.
"If he comes, I will leave," said Marcelo, confident: you can't start a coaching career in order to let you step over yourself.
But he didn't reject everyone. Two months before Bisera, the general director advised Alvaro Recoba, who asked for it in Nacional through his dad – after he returned from Europe beaten-killed and spent a weak year and a half at Danubio.
"I'm 35 and my dream is to win the championship with Nacional," said Recoba Gallardo. – Ready to go out for at least 10, at least 30 minutes – the main thing is that the children see me in this T-shirt.
"Everything, I understand, we are on the same wavelength," Marcelo replied. "A year ago, I also came here at an age and condition where you can't really show off, and I like your words. Looking forward to training tomorrow.
Going out for 15-20 minutes, Recoba scored in the first two rounds, but Nacional scored only two points and by the end of September 2011 flew off to 8th place. Then CEO Enriquez came to the training and told Gallardo:
"I will be tough with the guys. They hang out on Wednesdays and Thursdays – this is unacceptable! I do not interfere in your work, but the players should know the position of the board – we are against fooling around. If you want, come with me. If not, don't.
"Go without me," Gallardo said angrily. 
With Gallardo, Recoba enjoyed football for the first time in years
"We lost on Sunday because four or five of you were having fun before the match," Enriquez told the players. "Pull up or get kicked out of the club. Until the end of the season, I don't want to see you on the street after 12 at night."
Gallardo did not talk to Enriquez for three days, and then said: "Dani, thank you, the team has changed, a completely different attitude. I understood: you did it from the bottom of your heart to help me."
Over the weekend, Nacional thrashed outsider Cerrito (3-0 and Recoba's goal + pass in half an hour) and by the end of the year had risen to first place, winning 6 matches out of seven (with Alvaro's winning goals against Peñarol and Liverpool from Montevideo ).
In the second part of the season, Gallardo noticed Recoba's nervousness in training.
– What happened?
"It's all right, Marcelo.
– Tell me what's up. Angry that you don't start (recoba's father often complained about this in the press – Sports.ru)?
– To be honest, I would like to play more.
In the season finale against Defensor, Recoba came out with the captain's armband for the full 90 minutes and scored the only goal.
"I've been coached by Lippi, Cooper, Passarella, Mancini, but Gallardo is the best," said Recoba. – With him, I enjoyed football for the first time in many years.
At the 2012 championship party, he advised me to end my career: "It will be difficult for you to experience the same emotions as now." He turned out to be right. I wanted to play further, and I continued, but it wasn't as good as under Marcelo."
At the same party, Gallardo announced his departure from Nacional. He devoted two years to his family, and then another Uruguayan – Enzo Francescoli – returned him to River Plate.
Gallardo came to the U17 national team barefoot, wearing only jeans
Form "River" appeared at Gallardo in two years. It was presented by my mother, Ana Maria Maidana, an employee of a nursing home – her whole family was rooting for the club from the Monumental Stadium.