26

Jan, 2023
The start of Kaprizov in the NHL is at the level of Russian superstars (worse than Ovechkin, but better than Bure). Now he's going for 50 goals in a season
It may seem surprising, but Kirill Kaprizov is the best Russian scorer in the history of the NHL in terms of average performance. It is clear that he has not played so much yet and is, unlike his competitors, at the very peak (we will talk about this later), but the fact that Kaprizov is already one of the best Russian league players of all time can be considered a fact.
"The Wild has its first true superstar," writes Minnesota journalist Marcus Warrington. – A short debut season could have been an accident, and many were worried when, after it, Kaprizov received a salary of 9 million a year. But in the second he only got better and perfected almost every aspect of his game."
"In the 2021/22 season, Kaprizov deserved the Hart Trophy," says The Rink Live columnist Dane Mizutani. – Few people influenced the game of their team like Kirill. And while Auston Matthews' margin was very large, and it's stupid to crown a player at such an early stage in his career as Kaprizov, the very fact that we are discussing him as MVP speaks of the respect he deserves in such a short time.
After two seasons, we know that his results are not a fluke. He creates moments night after night, no matter who is on the other side of the court.
He doesn't yet surpass more established superstars like McDavid, McKinnon or Matthews. But many arguments indicate that he is in the top ten, and it's time to talk about it.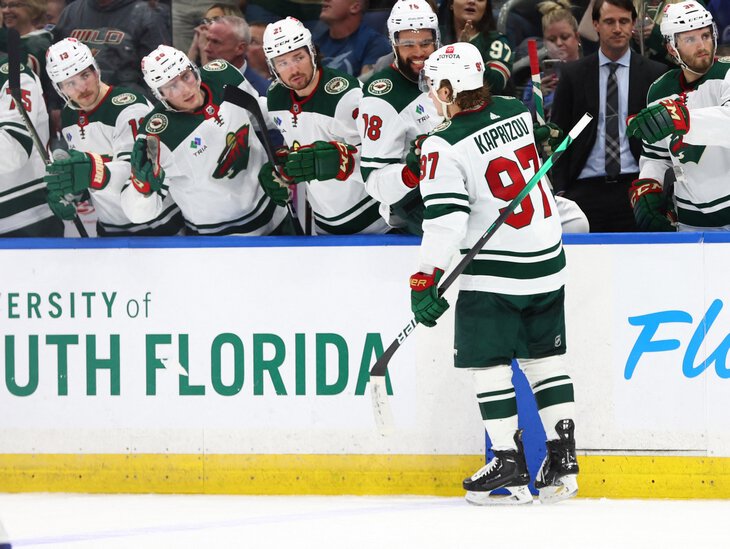 Debut Kaprizov in the NHL – at the level of superstars. According to statistics, in the first 182 matches, he is second only to Malkin and quite a bit to Ovechkin. All the rest are behind.
Yes, he came to the league later than his neighbors on the list, so perhaps it's worth looking not so much at the number of games as at age: what was the average performance of ours by the current years of Kaprizov – 25 years and 9 months?
The picture will change slightly: Kirill is second only to Malkin and Ovechkin.
If we take into account the difference in playing time, then Kaprizov may be the first by a wide margin: he spends only 19:17 on average per match (based on the sum of three seasons), while Malkin's time by the same age was 21:02, and Ovechkin and at all 21:59.
Of course, if Kirill spent as much time on the ice as Ovechkin, he would not necessarily have as much as 1.36 points per game. But we can ask such a question: what if it were?
Comparing Kaprizov with our other players at this age is all the more important because each of his neighbors on the list had their best seasons behind them: Ovechkin scored 65 at 22, Mogilny scored 76 at 24. better than the first, and the third is better than the second.
And one more important point: Kirill does all this without having star partners nearby.
"Kaprizov plays with the guys at the level of the second link," says former NHL tough guy John Scott. "And he almost scored 50 last season. If he played with Mitch Marner like Matthews, he would also score 60. Kaprizov is a 60-goal-scorer."
"Kirill is a superstar," said Minnesota general manager Bill Guerin. "And he just tried to put our team on his back and carry it. I especially noticed it in the playoffs. He became a big leader in our dressing room. He's special."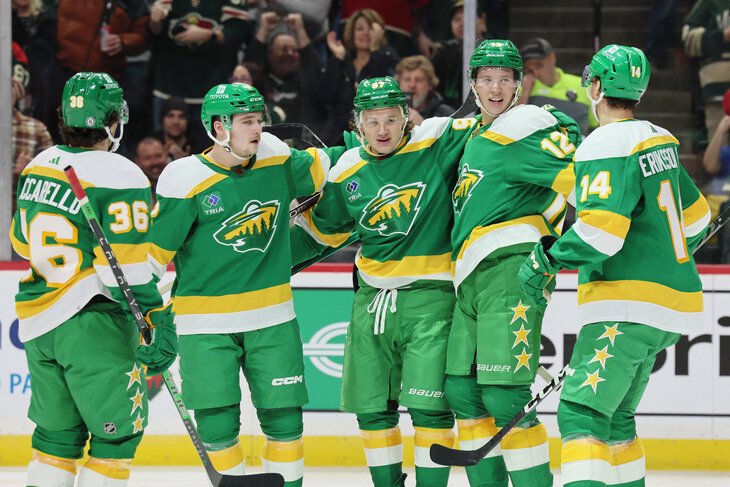 Kaprizov is already in two elite clubs of Russian NHL stars
In terms of the highest level, we began to equalize Kaprizov even after last season, when he was only the seventh of our NHL players to score 100 points in the regular season.
60 assists is a slightly less exclusive club; besides him, Kucherov, Malkin, Zubov, Panarin, Fedorov, Datsyuk and Makarov conquered this line. And, say, Ovechkin and Kovalchuk – no.
What he still lacks (besides continuing at the same pace for another ten years) is a season or two with 50 goals. So far, only the legends of the 90s Fedorov, Mogilny, Bure and the legends of the 2000s Ovechkin and Malkin have been able to score 50 goals and score 100 points from ours. The legend of the tenth Kucherov 50 has not scored yet. So the likely future legend of the twenties, Kirill Kaprizov, has an obvious way to secure a place in history with a guarantee and forever.
And Kirill seems to be in the mood for it. "People want to see me score goals," he told The Athletic's Michael Russo. – At the beginning of the 2021/22 season, I had almost a point per game (6 assists in 8 games), but not a single goal. And it seems to me that some fans hated me then – I signed a big contract and stopped scoring.
If the result were considered for any 82 matches in a row, then Kaprizov would already have 51 goals: he scored 27 in the first 46 games of this season and 24 in the last 36 games of the past. But the season is considered differently, so while there is intrigue – whether he will get to this mark.
"I think Kaprizov will be one of four or five guys who will score 50 or more this season," Frank Seravalli said in October 2022.
"Kaprizov, McDavid, Matthews and Draisaitl," agreed Tyler Yaremchuk, Daily Faceoff. "And Kyle Connor will be right on the doorstep."
Scored more in the second half of the season than in the first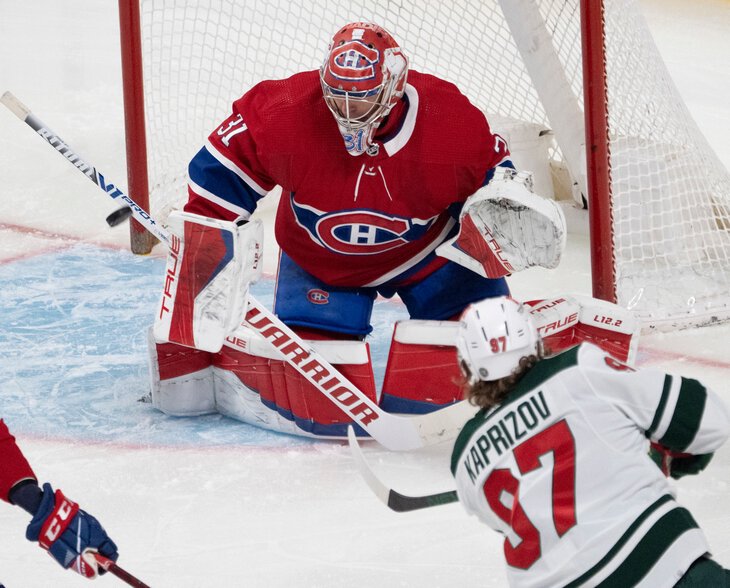 In the 2020/21 season, Kirill could not reach this bar for objective reasons – he played only 55 games.
And in the past, he stopped in one hat-trick from her: he scored 47 in 81 games, and who knows what would have happened if he had not missed that one.
Now Kaprizov has 27 goals in 46 games. This pace will only allow him to score 48 even in a full season.
But in each of the previous two, he rolled to the finish line. For example, a year ago, in the last 36 games, Kirill scored 24 goals. Just enough to break through fifty kopecks.
In the first half of this season, Kaprizov scores a little more than in the previous ones, but this is not because he flies everything in a row. On the contrary, the percentage of sales has slightly decreased and even lags behind his average career: 15.5. Last year it was 16.3, in the debut year it was 17.2. Average – 16.3.
Maybe it's because he's started shooting more often: in his first season, there were 157 shots in 55 games – less than 3 per game; in the past – 289 in 81 – 3.5; in the current one – 174 in 46 – almost 4.
In this case, it is hardly worth expecting that it will fly in more often. But there is no reason to expect a recession, since the indicator is still below the norm.
Top teams score more than underdogs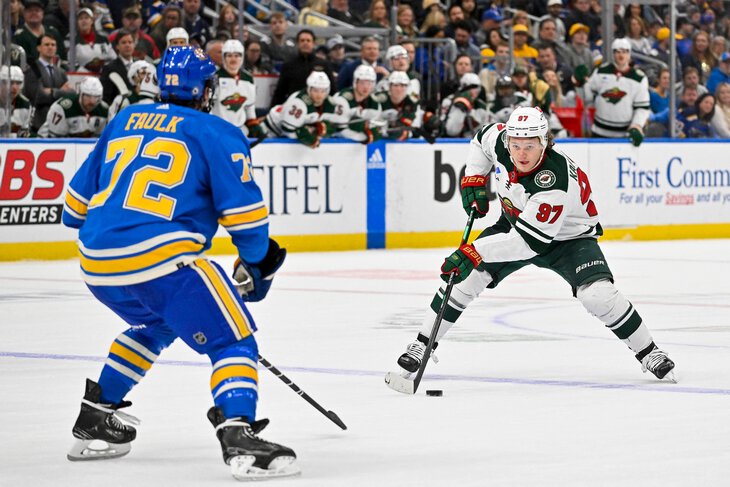 "Whims doesn't just score, he scores when it matters," wrote Jesse Pearce for nhl.com. "He has four game-winners, thirteen powerplays and several equalizers and/or impulse goals that have propelled his team to victory."
Looking at the statistics, we can add: Kirill even scores a little more against strong opponents than against weak ones (we don't take this season yet, because the top 3 and bottom 3 can still change, and the numbers compared to previous seasons will not be legitimate).
His short career in the playoffs says the same: 13 games – 9 goals, 0.69 per game. Much more than regular.
Therefore, we can consider the Minnesota schedule in the second half of the season to be good for Kirill: there will be more matches against teams going in the playoff zone or clearly fighting for it than against outsiders (in the first half it was even).
With such a calendar, he does not even have to accelerate to the finish line, as in the past two seasons: it is enough to score against favorites and outsiders, like in the first half of the season. So we will get the required 50 heads.
And Kaprizov has a million ways to score.
"Everyone knows he has an amazing ability with a stick," says Wild head coach Dean Evason. – But for me the main thing is his team spirit. Yes, he scores beautiful goals. But he scores more labor goals than beautiful ones.
And he does not score in any one way, for example, only at speed on the go. Or just the majority. I don't know the statistics and haven't counted myself, but if you look at his goals, a lot of them are scored from paint. For example, standing in front of the gate is not exactly his place in the majority. But he knows it's a pretty good place to score a goal. And he goes there."
So Minnesota's rivals may already be afraid. And the fans – to wait and believe that 50 this season will not go anywhere from him.