20

Dec, 2022
Ovechkin was in millimeters from the 801st goal – the barbell! Even the sons of Gordie Howe worried about him – after the game he gave them clubs
Well, when already?
Alexander Ovechkin quickly reached the anniversary mark of 800 goals (only 10 matches from the 790th goal), but now he cannot take a step and rise to second place to Gordie Howe – although it would seem that three home games should have motivated the player to decide question here and now.
With Dallas, he preferred to give his partners an empty net, with Toronto it just didn't work (only 2 shots on target). The game with Detroit was supposed to be a symbolic example: to catch up (and maybe overtake) the legend of the Red Wings by scoring against his team's goal – what could be more beautiful? But hockey is not a low-budget biopic with a predictable scenario; they don't score or concede by order.
At the same time, Ovechkin was very close to the 801st puck – there were not enough millimeters in the second period, when he hit the post from the majority with an uncomfortable hand.
If you paid attention to the score in the video (0:2), then you understand that Ovechkin's personal statistics had already faded into the background at that moment – the main thing was to get the match out. By whatever means – even by transmission.
Alexander and connected in one of the attacks on the 36th minute of Nick Dowd, who decided the issue with the first goal. Moreover, the American was so inspired that after 11 seconds (!) he scored again.
"Washington" in the third period had to recoup again, and Dmitry Orlov decided the issue in overtime .
Ovechkin, on the other hand, had 24:31 (5:50 in the majority) on the ice, 0 + 1, 3 shots, 1 hit, 2 losses and 1 tackle – not his best match. But let's face it: the Capitals' captain is getting tougher now, and the goaltenders are even more careful with him – no one wants to go down in history as part of his accomplishment.
"As usual, like every other time you play Ovechkin, he will still get his chances," Dylan Larkin said after the match. "Husso was really good against him this evening. The Washington players were in our zone a lot, creating a lot of attacks. We just tried to stay close to Ovechkin and not give him time or space to shoot."
However, there is another opinion why Alexander ended up without goals. "We're here supporting Ovi and it's fun to be in the stands," Mark Howe said at the second break. – Looking at the whole atmosphere around and watching the actions of Ovi, I can tell that he is a little nervous. Still: Howe's boys are in town – a lot of pressure on him. But it's all part of hockey history, so it's nice to be a part of it."
Indeed, Gordie Howe's sons Mark and Marty came to Washington to watch their father's record being broken. They were worried about Ovechkin and met with him after the game – Alexander signed sticks for them as a keepsake.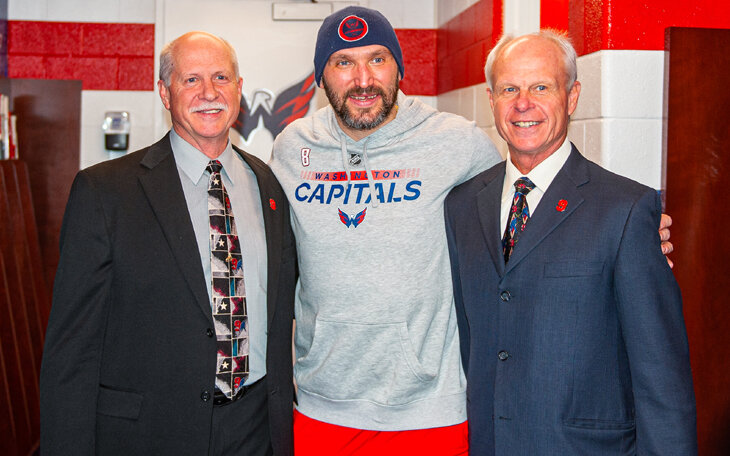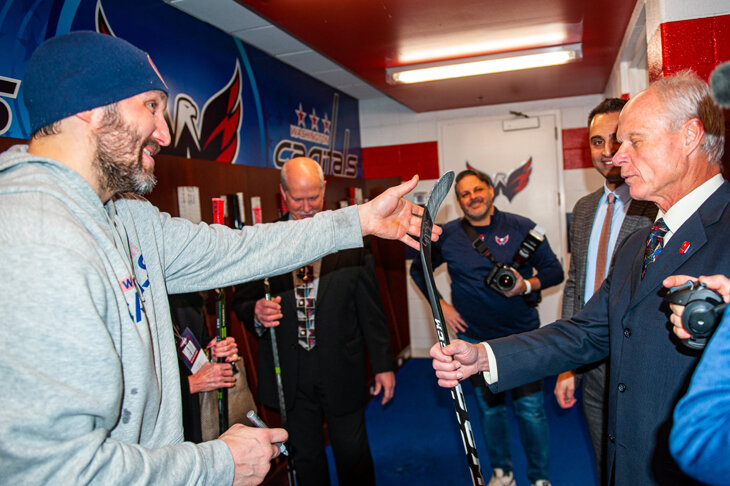 And then, it seems, the sweetest acquaintance in history took place: the Howe brothers met with the Ovechkin brothers. Perhaps someday Sergey and Ilya will drive around the arenas and watch how their dads break the record (but what kind of hockey supermonster should be born?!).
The Washington calendar now has an away match with Ottawa and the next day – a home game with Winnipeg. Until the new year, still the Rangers (away) and again Ottawa (home) plus Montreal (at 0:00 January 1 Moscow time). Somewhere here, Ovechkin will rise to second place. But in 2023, he should definitely set the record for another indicator: