28

Jan, 2023
Nikola Jokic's Denver leads the West. What are their chances of an NBA title
The previous two seasons for the Nuggets were, in a sense, passing: Murray's injury, and then Porter's relegation, did not allow them to fully qualify for high goals. Jokic pulled as best he could in the regular season, pulling out the maximum from a mediocre line-up in terms of the overall level of talent. Actually, the fact that he confidently climbed into the playoffs in the West last season with such cards in his hands is generally a somewhat underestimated achievement, even despite the final MVP.
Nicola's best partners on that team are Gordon, Burton, Morris and Green with Rivers.
When Curry with something like that took eighth place in the West and crashed into the play-in, everyone sang about him. When LeBron finished 10th with something like that, they traded +/- the whole team in the summer (and yes, James missed a decent amount of games there with an injury, but by the time he returned, the Lakers still had 27 wins and 25 defeats, they fell to the very bottom with him in the composition, although already without Ingram).
Jokic did something with relative ease that the two current legends had trouble with, and that's an accomplishment in itself.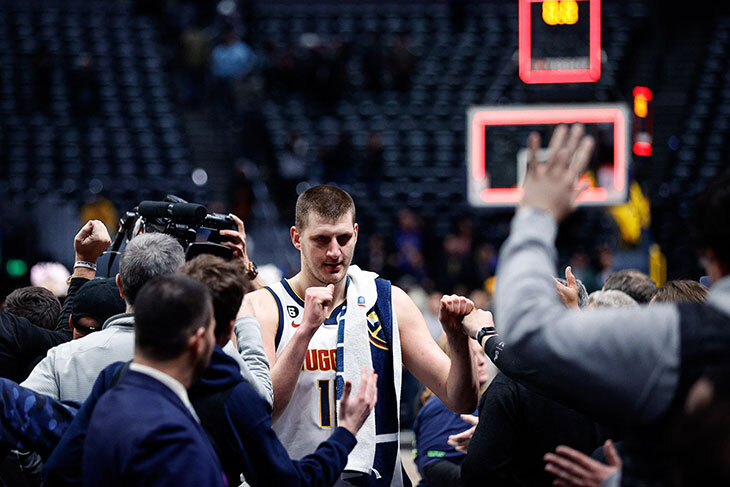 However, in the playoffs, the lack of talent from the environment affected. When Portland were terrified of moving away from Nikola and concentrating on him, Jokic was able to open partners, and then something worked. But when the Golden State and Phoenix turned on the "okay, let him roll, but we will not leave open his partners" mode, it turned out that Nuggets players who do not respond to the last name "Jokic" simply cannot create themselves throw, and he himself was not allowed to come up with a throw for them, because they simply doubled much less often on it. Dial yourself, but you will not give in to anyone. Jokic had almost 8 assists per game last season, less than 6 in the series with the Warriors. The season before last, he had more than 8 assists in the regular season, 5.8 in the series with the Suns.
In the series with Portland, in fact, there were even fewer assists, but there Jokic hurt differently – he often put up barriers, helping partners, and Nurkic did not insure anyone, because he was terrified of leaving Nikola. The result is an open road to the ring and either an easy lay-up or an easy pass to the corner. That is, yes, for Jokic these are not direct assists, not even always screen assists, but he still actually dispersed the attack, he was allowed to help partners. They turned off Denver, making Nicola a scorer. Not because he is a bad scorer, of course, but because there were no other independent players.
But the time has come, the spell has been lifted, Murray comes to life again in a clutch and is generally gaining shape. Gordon adds, Kentavius ​​and Brown came in very handy, and somewhere else there is the same Porter, who does not shine with stability this season, but he definitely did not lose the shot. This Denver is a different animal, this team is stronger, more talented and more ambitious.