20

Jan, 2023
Medvedev failed the Australian Open and will fall out of the top 10. A year ago he was #1 in the world
A little less than a year ago, Daniil Medvedev was the first racket of the world. But since then, he has not defended a single result in major tournaments – the last of them was last year's Australian Open final . But already in the third round the Russian lost to Sebastian Korda – 6:7(7), 3:6, 6:7(4).
As a result, on Monday after the Australian Open, he will fall out of the top 10 for the first time since 2019 – and will be a maximum of 12th.
In general, this Australian Open was the worst Grand Slam for him since Roland Garros 2020, where he lost in the first round. And in Melbourne, he has not performed so badly since 2018.
How so?
***
Korda was awesome. In fact, his playing advantage in this match was even greater than the score suggests. If not for the nerves, largely because of which he missed three breaks in the first set, a break in the third set and a lot of chances for a less stubborn first tie-break, then the picture would be completely different.
On the other hand, nerves are a huge part of tennis, and if Sebastian still couldn't cope with them and missed the game advantage, he would be to blame. But he always corrected himself and went out to the tennis, which allowed him to dominate.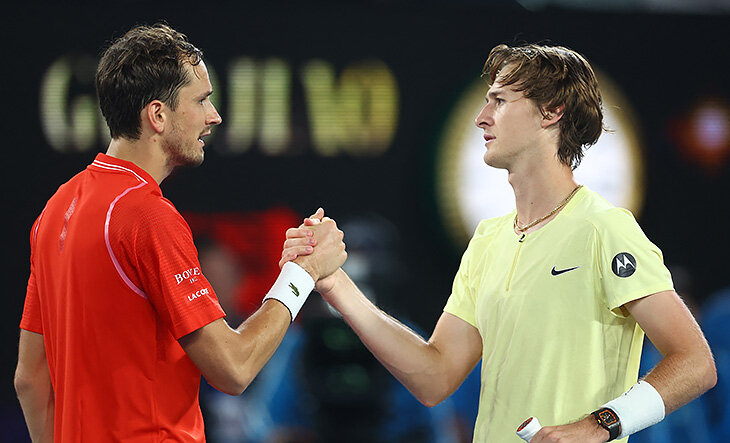 Here are its components:
• When asked after the match what his plan was, Kordu replied with a chuckle: "Just attack." That's what he did the whole match.
• His baseline shots have it all – power, accuracy, variety, ability to change direction. But the main quality was depth, because it did not allow Daniel to seize the initiative.
And it's just amazing how many shots the American put in the very back line.
• At the same time, Korda was very patient and reasonable. Here is an example of controlled aggression that created so many problems for Medvedev.
It is also important here that Korda had every chance to lose the initiative after a deep transfer of the Russian. But he met the ball early, answered deep and wide, and then scored with sight.
• In general, Sebastian used the court and space very well. For example, he tortured Medvedev with short cutters, pulled them out of a comfortable position, forced him to come forward.
• Depth opened up space for short cuts, which he generally performed brilliantly.
• You're getting tired of talking about it, but an excellent serve, coupled with Medvedev's deep position at the reception, opened the way to the net and the opportunity to quickly finish the draw there.
• Or, after a good serve, it could be shortened.
• Took Korda also phenomenal. Yes, 33% of innings brought Daniil points right away, but if Sebastian got the reception, then he was often very deep and aggressive. For example, at the first tie-break.