14

Jan, 2023
Life of Valery Kharlamov: 8 months in Bilbao, heart disease and return after the accident
First non-NHL forward inducted into the Hockey Hall of Fame in Toronto.
Kharlamov and football: played in Bilbao with the future goalkeeper of Athletic and rooted for Torpedo 
"Practically anyone who can walk can play football," he told his biographer Oleg Spassky, "but in hockey there is a condition: first you need to learn how to skate. Football is more democratic in this sense."
The love of football intensified in Bilbao, where Kharlamov lived with his sister in the second grade for eight months with his mother's parents – just then Athletic became the champion of Spain for the first time after the war.
"In Bilbao, my brother played football like crazy, and his bosom friend Javi, years later, grew up to be the main goalkeeper of Athletic," recalled Tatyana Kharlamova.
Valery did not leave football even after returning to Moscow – even when he suffered a severe sore throat that caused a heart defect, and doctors banned outdoor games.
True, they didn't take him to the CSKA football school, so he played for Metrostroy with Nil Gugnin (the first coach of many future collections – from Andrey Yakubik to Igor Shalimov).
"The ball was like glued to his leg," said Vladimir Bogomolov, the center of the Kharlamov link at the CSKA hockey school. – The stroke is simple: he showed with his body in one direction, and left in the other.
It was said about midfielder Viktor Papaev that he could miss eight people in the aisle of the bus. Kharlamov performed something similar.
In the summer we went to the beach in Serebryany Bor. There was a football patch the size of a basketball court, where everyone fought like a man. And they couldn't take the ball away from Kharlamov."
Kharlamov called Vsevolod Bobrov and Eduard Streltsov idols – it was fascinating how they sleepily moved around the field, and then abruptly turned on and broke the game.
"They both scored and made the game smart, exciting," Kharlamov said in Forward No. 17. – They made football a game, not a tedious job.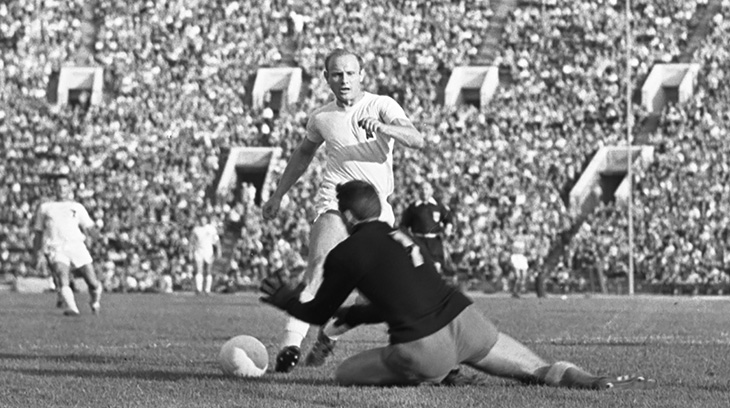 I have never been lazy, but I did not like to rush around the football field to no avail. Alas, most football coaches kept repeating: work, work, move! In hockey, at least it's easier: he pushed off once – and he crossed the entire court.
In general, I stayed in hockey, but I love football. Once in Khost, we, CSKA hockey players, played football with Lokomotiv players. And they won.
Several times I managed to make accurate passes, Mishakov deftly and unexpectedly passed the ball between my legs, Kuzmin jumped out of an ambush and scored!"
"Valery loved football almost more than hockey," his father recalled in the book "Three Speeds of Valery Kharlamov". – I used any occasion to play football.
Somehow I even went to Malakhovka on purpose with Petrov and Mikhailov. They advocated their course at the regional institute of physical education, and although he studied at the Moscow institute, he was allowed to play with friends.