23

Jan, 2023
Lampard is fired. For a year with him, Everton slipped into the relegation zone and did not win the Premier League for three months
Frank Lampard was just a little short of a year at Everton. He was appointed on January 31, 2022, and fired on January 23. Everton's main shareholder, Farhad Moshiri, told him about the dismissal during a telephone conversation, writes the Daily Mail.
On Monday evening, the club officially confirmed that Lampard is no longer the head coach.
Under this owner, since 2016, not a single coach has spent two full seasons at the club. Although even Carlo Ancelotti worked under him.
Why Lampard was fired: Everton in the relegation zone and with a terrible series
Two facts that will explain everything.
• A year ago, Lampard took over from Rafael Benitez at Everton, finishing 16th in the Premier League, four points clear of the relegation zone. Of the 20 matches, Everton then lost 11.
• Now Everton are penultimate. Up to saving 17th place – two points. The same 11 lost matches out of 20, only now four points less.
It would seem that what has changed after Benitez?
Obviously,reason for dismissal – poor results in the league. You can juggle the series as you like – 11 losses in 14 matches in all competitions, nine in the last 12 in the Premier League, six in the last seven.
Only Wolverhampton score less than Everton in the league. Since November, the team has missed almost every match at least two. Hasn't been able to win since October.
The threat to fly out is very serious – there is a second round to get out. Therefore, urgent measures are needed now.
A year under Lampard: wins over Manchester United and Chelsea, happy fans on the pitch, fight for survival again
Briefly about how Lampard's 357 days at Everton turned out.
The start was tough: seven defeats in nine matches. Above the relegation zone hovered just one point. But in the last nine rounds they taxied out.
The most emotional moment was half an hour in the penultimate match against Crystal Palace, when they turned 0-2 into 3-2. With this victory, Everton secured a place in the Premier League – the fans fled to the field after the winning goal and after the final whistle. Lampard called it one of the greatest moments of his career.
If we had lost, we would have risked a lot: we would have returned to one point above the red zone, in the last round we had to play with Arsenal – but we didn't bring it to that.
The new season started relatively calmly.: Everton met October in 11th place, three points clear of the Champions League zone. Since then, there has been only one win in the Premier League (again with three goals against Crystal Palace).
In the last FA Cup, Everton reached the quarter-finals, but were 0-4 away from Palace. This season, they flew out immediately – from Manchester United, when Conor Coady scored both in his own and in others. They said goodbye to the League Cup at the second stage for themselves – 1:4 in Bournemouth.
• Everton have made 38 appearances and 35 points under Lampard. A graph when a coach scores less than one point on average per game at such a distance is already an obvious signal.
• Departure is really somewhere nearby, if you continue like this. In the history of the Premier League, 81 teams have been relegated in 38-game seasons, and 19 of them, that is, almost a quarter of 35 points or even more, were missing.
• Out of 44 games under Lampard, the team has won just 12. The win rate is very low at 27%.
There were still separate reasons for joy – Everton beat Manchester United and Chelsea with Lampard, did not concede from Liverpool, took away points from Man City. True, he also received five goals from Arsenal and Tottenham.
And the victory over Newcastle will be remembered by Lampard himself – this is how he celebrated the goal of Alex Iwobi on 90 + 9, which broke his arm.
It will be difficult for the new coach: there is a terrible calendar ahead
Whoever leads Everton next (while Paul Tate and Leighton Baines are temporarily in charge), it will be difficult to roll in and reboot.
Next, Everton has a home match with the leader – Arsenal, and then a guest derby with the evil Liverpool.
An unpleasant stretch awaits from mid-March: two away games against Chelsea and Manchester United, and between them – a home match against Tottenham.
The last two rounds will probably be the most intense – there they will play against Wolverhampton and Bournemouth, who are now competing with Everton.
According to the Daily Mail, one of the candidates for the post of chief at Everton is Marcelo Bielsa. Sean Dyche leads the British bookmakers, David Moyes, Wayne Rooney, Nuno Espirito Santo and even Duncan Ferguson with Sam Allardyce are on the list.
There are two pluses in Lampard's work, but the resignation is well-deserved – everything is very sad. View of Vadim Lukomsky
The author Vadim Lukomskoy succinctly explained the details in the telegram channel "England, England" :
"Unfortunately, Everton sacked Lampard for absolutely no reason, although the club is unhealthy on a deeper level. The coaching problem is far from the only one, but even the current resource is clearly better than 19th place (Everton takes this position both in terms of xPoints and points). Football is also extremely dull and unprincipled.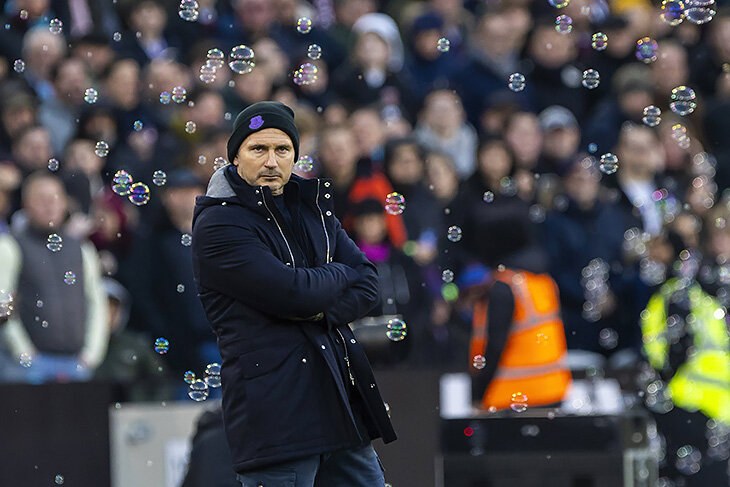 From the good during Lamps' time, I will highlight two aspects:
• Form of Alex Iwobi . He became clearly the best player. The 35 million pounds given for him finally stopped looking wild.
• Decent buses in matches against tops . They ended in different ways, but the starting plan was almost always in order. And in it there was not only a willingness to park, but also subtle details – a scheme or a special move for an opponent.
The problem is that the positive ends here. Obviously not enough. A decent game against the tops is not even always three points. It is more valuable for Everton to show a stable quality game against equal and weaker players. And Iwobi – even in his best form – is not enough to single-handedly pull out the team. Some aspects of his brilliance are directly related to problems – for example, in a healthier environment, he would not have to go so deep to advance.
Even last season –in the first month of work – Lampard abandoned difficult bold ideas. And so he did not return to trying to build something worthy of an Everton-level club. Solid primitive and reinsurance. The team did not play even in good segments and depended heavily on the courage of Jordan Pickford.
Frank obviously failed to implement the ideas that he originally planned, and in the primitive course he came to, he is a very mediocre coach. At the exit, Lampard let the team down so much that even in tolerable matches this season, Everton looked like an expensive version of Burnley (with Tarkowski and McNeil in the squad).
By the way, given the position, the stage of the season and the course taken, there is an obvious contender for the position of the coach, because there is also Michael Keane in the roster. Agree, Sean Dyche!"