16

Jan, 2023
Have you seen the table in France? PSG lost again and lost the lead
Neymar flew in – his transfer was called the worst in history.
It seems that something has broken at PSG: in 2023, the Parisians do not shine. This time "Paris" lost away to "Rennes" – 0:1.
The hosts, by the way, were met very powerfully at the Ruajon Park with fireworks and fireworks, so it is not surprising that they were charged. And beat PSG at home for the second season in a row.
• PSG have already lost twice in Ligue 1 in their last three matches. The same number of defeats in the championship was in the previous 29 games (including last season).
• Rennes really were just as good – yes, they had less ball possession, but they shot the same number of shots on goal (8 shots each) and hit the target more often – 6 vs. 1. And the northerners also had more chances (according to Opta classification) .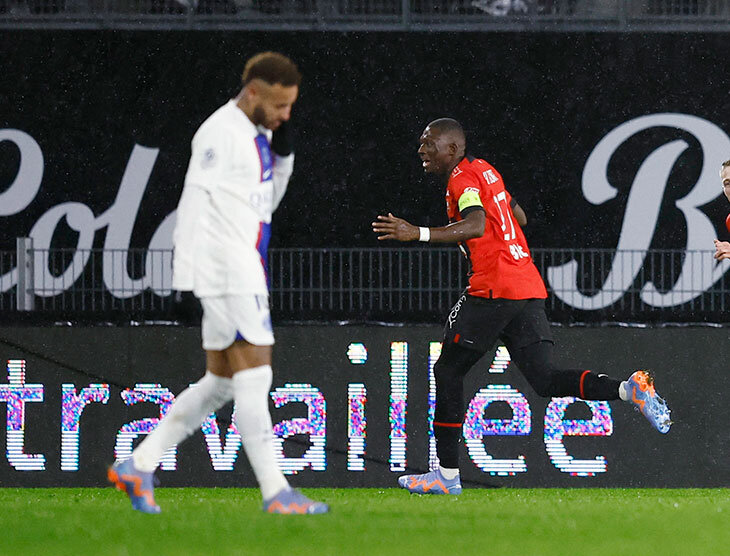 Rennes have included seven players born in 2000 or later. But the only goal was scored by a veteran – 30-year-old team captain Amari Traore, who joined the attack great and fired Donnarumma from the penalty area at close range.
• Paris Saint-Germain are narrowing their lead with Lens on three points and Marseille on five. The Parisians have not had to think about rivals since the beginning of the season, but the situation is changing.
Even Christophe Galtier was a little worried: "I don't want to talk about anxiety, but you need to be aware. You can find a thousand excuses, but the World Cup is already in the past. Even if we were broken up for eight weeks, we still need to find the teamwork, the rhythm and the intensity. We will have about ten days to work on it."
• PSG played almost all the stars at the start: both Leo Messi and Neymar played the full 90 minutes, Kylian Mbappe appeared in the 60th, and the rest of the lines also had leaders on the pitch.
The Brazilian was also hit hard by the media.
"Neymar fooled the PSG fans by spending a good six months because he had to prepare for the World Cup. Now it's over. Do we realize that Neymar is the worst transfer in the history of football in terms of wages, amounts spent? I can't think of a bigger failure at this price, it's terrible," journalist Daniel Riolo said after the match.