23

Jan, 2023
Fati broke at 16, got ten Messi, but injuries intervened. Can he still become a Barça superstar?
We understand.
Ansu Fati burst into Barca at 16 and was so elusive that he was called the most talented player on the planet. But injuries intervened: Fati was treated and returned, treated and returned.
Now Ansu is 20, this season he has 3+3 in 17 matches. We recall the story of Fati's brightest start and discuss how he looks at Xavi's Barça and what else he can add.
'It's not normal' is how Valverde and Enrique described Fati's start at Barça with records and important goals
Of course, you remember how brightly Ansu Fati started at Barça.
At 16 years and 298 days, in a 5-1 La Liga game against Betis, he came on as a substitute and became one of the youngest debutants in the club's history. To release such a young player in the night match, Barca even needed permission from their parents.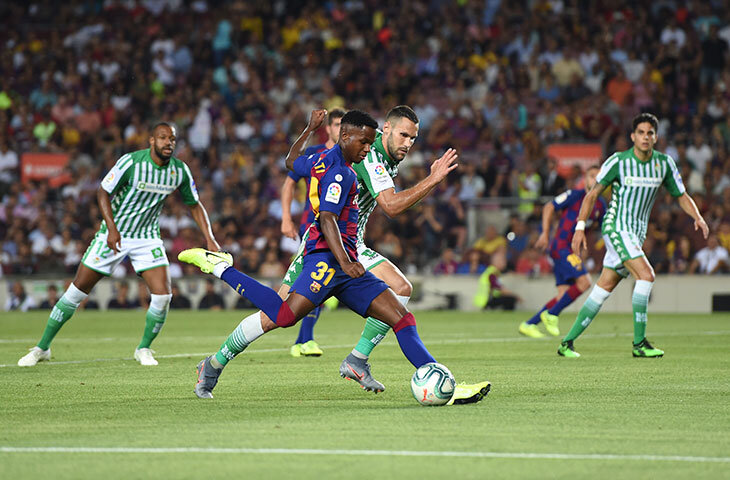 Just six days after his debut, Fati scored against Osasuna 6 minutes after entering the field and became the youngest goal scorer in Barça. The broadcast got the words of Ansu after the goal was scored: "I can't believe it."
On the next round, Barça played Valencia, and Fati got into the start. On the 2nd minute, he opened the scoring, and on the 7th minute he gave an assist to Frenkie de Jong. At the 60th, under the ovation of the Camp Nou, he was replaced by Luis Suarez. In that game, Ansu became the youngest player to start at Barça's home stadium, the youngest player to score 1+1 in a single La Liga match and the youngest goal scorer at Camp Nou. "There is something special about Ansu Fati. It's not normal to score so much at this age," said Ernesto Valverde after the match against Valencia.
Three days later, Fati became the youngest Barça player to appear in a Champions League match. "If Ansu plays, it's not to break any records," Valverde said before the Barça match with Borussia. "It will happen because the team needs him. We are really very happy with it."
Nearly three months later, Fati went 85th in a 1-1 Champions League game between Barca and Inter and scored within a minute. At 17 years and 40 days old, he became the youngest goalscorer in Champions League history.
In February 2020, Fati scored twice against Levante in 100 seconds (both goals from Leo Messi's assists) and became the youngest double scorer in La Liga history. "I was impressed with him on the first day," Messi said. – A very good player. No need to rush him, put pressure on him. We must help him and do it gradually so that the noise around him does not prevent him from growing.
In September 2020, Fati made his debut for Spain in a match against Germany at 17 years and 308 days – only Ángel Subieta, who first played for the national team in 1936, was younger. In the fall of 2021, both Fati and Subieta were ahead of Gavi – on the day of the match between Spain and Italy, he was 17 years and 61 days old. "Fati is very technical, and he also reads the game very well," said Luis Enrique. "He knows how to play for partners, which is very important in the national team." "Do you think Fati is Messi's heir?" Enrique was asked. "I believe that Ansu Fati is the heir of Ansu Fati. That's who he should be. Ansu has to think about progress, because he is not even 18 years old. We need to be prudent and calm with all players, especially 17-year-olds."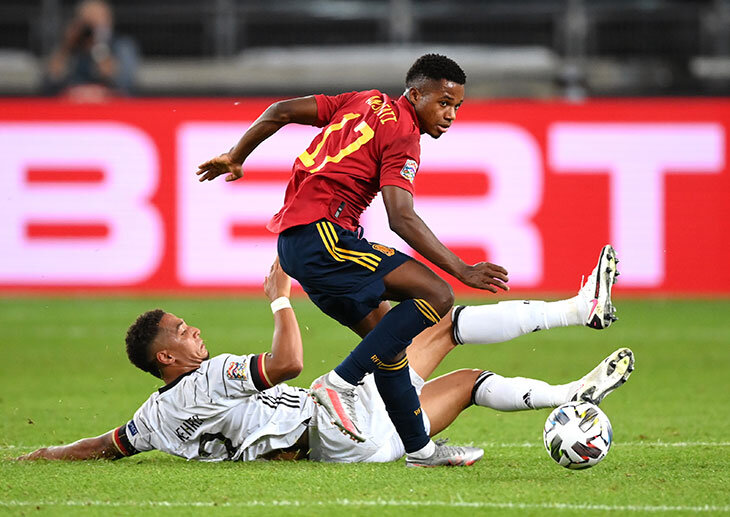 Three days after his debut with the national team, Fati scored and earned a penalty in the match against Ukraine – and – unexpectedly – became the youngest goal scorer for Spain. "I can't say that he didn't surprise me, even though I know him very well and understand what he is capable of," Enrique admitted. – Already in the second minute, he passed the defender on a dribbling and earned a penalty … I'm not sure that I've ever seen this. You need to accept it. This is not quite normal – that's what I can say for sure!
In September, Fati broke into the first team and took the 22nd number, and a few days later he again made a double in La Liga – Villarreal (4: 0) in the first match under Ronald Koeman.
"Players like Ansu are able to decide the outcome," the coach said. I hope he stays in such good shape. But he is a very young player, so you should not expect him to play like this in every match. He just needs to work hard and help the team, but you have to admit that for his age he is very, very good.
In October, Ansu became the youngest goal scorer in Clasico history, surpassing Raul's 1995 record.
It seems that it was simply impossible to start better in adult football.
Fati has had four surgeries on one knee. He missed 486 days due to injury.
Everything changed dramatically in the match with Betis, the very team against which Fati made his debut at the base of Barça. Half an hour after the start of the game, defender Aissa Mandi flew into Ansu with two legs. Fati finished the first half, but did not come out for the second.
Ansu was diagnosed with a torn meniscus. Ahead was almost a year without football.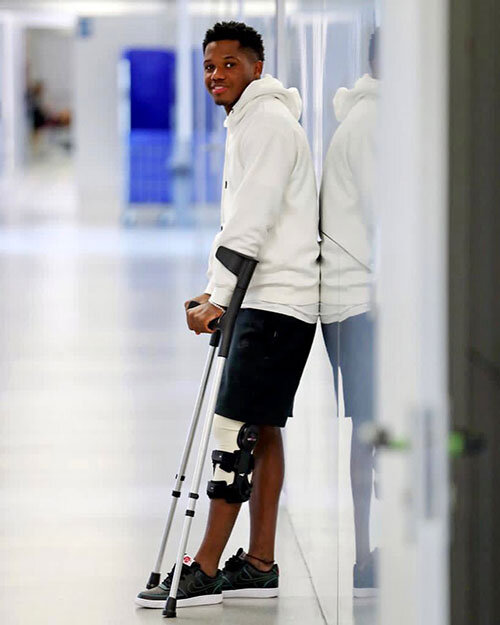 Fati went to Ramon Cugat, a renowned surgeon who had worked with Xavi, Sergio Aguero, Pep Guardiola, Fernando Torres and others. First, the doctor stitched the meniscus, and for 10 days Ansu worked under his supervision. But then things didn't go according to plan. Fati returned to Barcelona, ​​whose doctors took care of his recovery, and a few months later Ansu called Cugat and said that his knee was inflamed. It turned out that at Barça he spent two classes a day – more than necessary.
Two months after the injury, Fati needed a new operation. In February, disturbing news appeared – Diario Sport wrote that the winger felt pain in his knee after exertion. At first it was planned that Fati would return in March, then the dates were shifted to April. And at the end of March, insiders sounded that Ansu would need another operation – the treatment did not make progress. It was held in May.
"Four operations on one knee is too much," said surgeon Ramon Llobet, who specializes in knee injuries, in an interview with The Athletic. "It was not only the meniscus that suffered, but also the cartilage. Recovering from this is very difficult."
In the summer, Fati was recovering, and a drama was taking place in Barcelona: Lionel Messi left it. On September 1, the club announced that the legendary ten was moving to Ansu.
Under this number, Fati returned to the field – and it turned out in style. On September 26, 2021, Ronald Koeman released him for 10 minutes at the end of the game with Levante, and he scored already on the 91st. "Wearing number 10 is pride, not pressure," Fati said after the game.
In a recent documentary FC Barcelona: A New Era, Fati said that Barça asked him to take the number 10, and he went to the team captains for advice. Everyone agreed that it was Ansu who should get this number.