21

Jan, 2023
'Every week you're a loser.' The brutal world of professional tennis
One of the show's stars, Nick Kyrgios, may not have watched it yet, while former world No. 1 Andy Murray says he has no interest in watching it. But Netflix's new fly-on-the-wall documentary 'Break Point' has nevertheless made plenty of headlines since it was released on January 13.
The documentary, which focuses on the next generation of tennis stars, is made by the team that produced the hit Formula 1 Netflix series 'Drive to Survive.'
Its aim is to showcase the sport's younger talent to the world, the ones tipped to step out of the shadows of Rafael Nadal and Novak Djokovic (and, at the time of filming, Roger Federer and Serena Williams as they hadn't yet retired).
Tennis wants to gain a new audience as it prepares itself for the sport's new era, one without its bankable stars, the generational talents who became household names.
One way perhaps of achieving that aim is to have cameras follow 10 of the ATP and WTA's players throughout the season and hope they make tennis look exciting, glamorous and dramatic, as 'Drive to Survive' did for F1.
It doesn't quite succeed because tennis isn't quite the traveling soap opera F1 is. But talk of a 'Break Point curse' which has surfaced on social media this week perhaps adds a little something to the narrative after six of the stars featured in the first five episodes exited this year's Australian Open before the first weekend of the tournament, while three pulled out of the tournament injured.
Only Canada's Felix Auger-Aliassime, 22, remains in the singles draw.
"I thought it was funny," he said when asked by reporters about the so-called curse. "I don't know; I don't think it's connected.
"Maybe the players that lost, maybe they do feel like it's connected, somehow. I don't think they do. I don't think it's connected, anyhow. It's funny how things work out sometimes."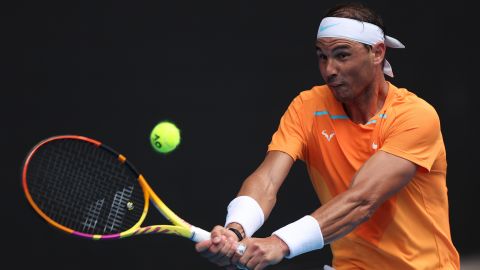 By describing the basics of how games and sets work in episode one, the show clearly has a certain type of audience in mind – one that doesn't know much about the sport.
Most of the players featured – Maria Sakkari, Taylor Fritz, Paula Badosa, Auger-Aliassime, Casper Ruud – have a lot of winning to do before they become global stars, though they all have, at one point or another, been in the world's top 10.
Arguably others in the show, Hugo Boss pin up Matteo Berrettini and history-maker Ons Jabeur, are now better known, having reached grand slam finals last year.
The series opens with the biggest star on its rollcall, Kyrgios, the Australian who has become accustomed to making headlines around the world, and not always because of the quality of his tennis.
The 27-year-old is described in the show as the most talented player of his generation, yet he hasn't won a singles major, though he did reach last year's Wimbledon final.
He perhaps epitomizes the sport's so-called next generation, talented, yes, yet having not quite broken through and at risk of being usurped by the next wave of players coming through.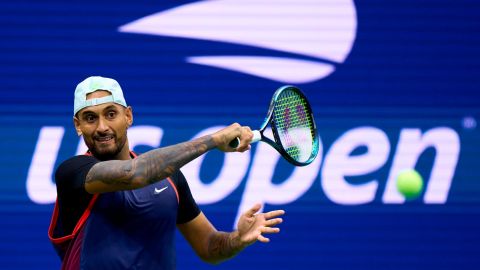 Quality Sport Images/Getty Images
Episode one opens a window into how Kyrgios struggled with the fame and expectation heaped on him following his sensational victory over Nadal at Wimbledon when he was just 19.
The Australian talks about the loneliness of the sport – how competing week-after-week, moving from one hotel to another is not for him – and of the drink problem he had when he was younger.
"I just had to be kinder to myself, for my mental health. I could never be a player that played all year round. I couldn't do that," he says.
'Nightmare for tennis': 4 a.m. finishes dubbed 'crazy' after Andy Murray's grueling Australian Open victory
He would drink every night, he says, of his younger days as a professional, as his life was "spiraling out of control," while his manager, Daniel Horsfall, says he would use a tracking app on his phone to search for Kyrgios after his nights out.
"I used to have your location on my phone and some mornings I would physically go find where you were, what hotel you were at, who's house you were staying at before tournaments, before a match," Horsfall says. "That was tough."
What becomes clear is that even for those who are successful – the protagonists may not be grand slam winners, but they are among the best in the world – tennis is a brutal sport.
Here is a show that features the sport's young elite, and most of them have struggled mentally at certain points in their young lives.
It is a lonely world and, as the American Fritz says in the episode which centers around his journey, "every week you're a loser," because only the likes of Nadal and Djokovic win the vast majority of the tournaments they enter. For the others, even those who are very, very good, defeat is frequent.
Spain's Bedosa, once a world number two, is incredibly honest as she talks about how the sport affected her mental health, how the pressure to succeed, to win, to move up the rankings, became too much for her.
"People were talking about me like I was the next big thing, the next Maria Sharapova. I felt like, 'Wow, now I have to be a legend. Maybe next year, I have to be a top 10 player.' So, for me, it was a lot of pressure," she reveals in the show, having first spoken about her struggles in 2019.
"A lot of people don't talk about it because they feel they're going to be weaker, but I think it's totally the opposite. I'm fighting a lot mentally to try and find myself again."
The Greek player Sakkari speaks about how she couldn't sleep for three days after losing a French Open semifinal from match point up to Barbora Krejcikova – "I told my coaches that I want to retire from tennis."
Sakkari's mother, a former tennis player herself, sums up the sport succinctly: "Tennis players don't just lose to their opponents, they lose to themselves."
It is just a short segment, but a poignant one as Jabeur's husband, who is also her fitness coach for financial reasons – after a breakthrough season in 2022 it is safe to assume those monetary concerns no longer exist – asks his wife about having children.
Sarah Stier/Getty Images North America/Getty Images
The Tunisian, who last season went on to become the first Arab woman to reach a grand slam final, looks on forlornly as she talks about her desire to one day have children but that, for now, she is focusing on her career. The pair then embrace for a long hug.
The series underlines what an individual sport tennis is. Sakkari says goodbye to her team and is driven to her match. No matter how big a player's entourage, they're on their own on the court, battling their opponent and their thoughts.
The traveling also seems relentless for those who compete week-in, week-out. One tournament finishes, another is set to begin.
And partly because of that, and partly because of the focus and dedication required to win tournaments, the players don't appear to experience much of the world they endlessly travel around.
During the Australian Open, the cameras show Berrettini and his then girlfriend, Ajla Tomljanovic, who is also a professional tennis player, eating dinner in their hotel room, watching movies on their beds via a laptop.
Outside is Melbourne, one of the world's best cities, yet theirs is a confined world; of the practice courts, the gym, the hotel room.
Does watching 'Break Point' make you envy tennis players? Not really. Does it make you want to be part of their world? Not really. Does it make you question how such a lifestyle affects a person's wellbeing? Certainly.