22

Jan, 2023
Already the 6th newcomer to Chelsea in the winter: he was a fan of Ronaldo, refused Manchester United, honed Van Nistelrooy's goal flair
Noni Madueke – Ever heard of it?
Chelsea continue their grandiose purchase – following the transfer of Mikhail Mudrik, they completed the purchase of 20-year-old PSV winger Noni Madueke. Not so well known in Europe, but already had to pay 35 million euros, signed for 7.5 years. He is the sixth player Chelsea have bought in this transfer window.
First surprising detail: 20-year-old Noni is British and is now returning to England.
"To return to England and play in the Premier League is my and my family's dream," Madueke admitted.
What is known about him? How did he end up in the Netherlands and open up?
Engaged in the Crystal Palace and Tottenham system and abandoned Manchester United for PSV
Madueke was born in Barnet, a suburb of London. He started playing football at the Crystal Palace academy, and three years later he left for Tottenham, where he played until the age of 16.
Noni is not shy about openly saying that his role model is Cristiano. "Ronaldo during his Manchester United days was the person who got me started playing football. I grew up watching him," he told BBC Sport.
The guy was really special. This is what former Tottenham youth team coach Justin Cochrane said about him:
"He always wanted to do more than the rest. He is quite brave, very self-confident. When he was 14, he asked, "What do I need to get into the under-16 team?" I said: "If you score 10 goals in the next 10 games, you will play there." As far as I remember, he scored 12."
In 2018, Madueka was called to Manchester United, but he refused and, unexpectedly for everyone, chose PSV. "My names were Chelsea, United and other European clubs, but I signed with PSV as soon as I arrived in Eindhoven. There I could get into the first team faster than in England. PSV is a great European club," Noni explained.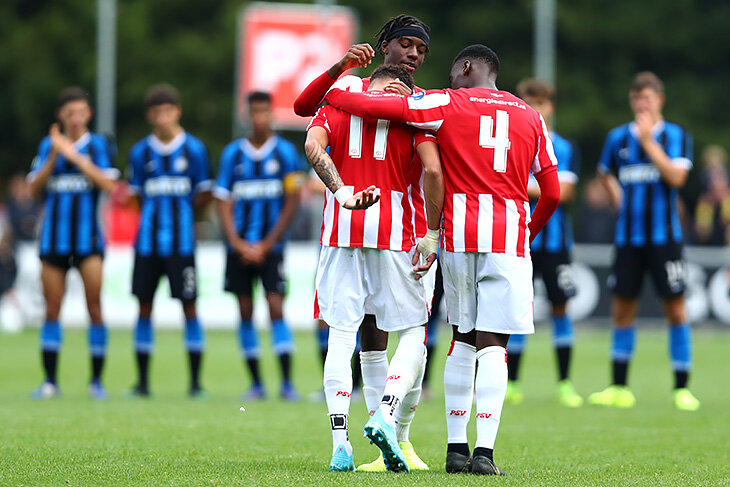 In Eindhoven, Madueke had a good teacher – Rud van Nistelrooy. The Dutch striker was just coaching PSV's youth teams at the time and greatly helped hone his scoring instincts. "Rud helped me a lot, I learned a lot from him," said the winger.
He made his senior PSV debut at the age of 17 and reached a new level after the pandemic
Madueke progressed rapidly and at the age of 17 he played for the first time at the age of 17 – in January 2020 he came on as a substitute in the match against Venlo (1:1). Such an early debut in adult football did not surprise anyone – Noni developed faster than the rest.
"I have always played with guys who are a year or two older than me. Used to playing against bigger and physically stronger opponents. I think that's why I easily joined the first team, "the player reasoned.
Shortly after the debut, a pandemic began. While football was on pause, Madueke made great progress and already in the 2020/21 season he scored nine goals and made eight assists for PSV.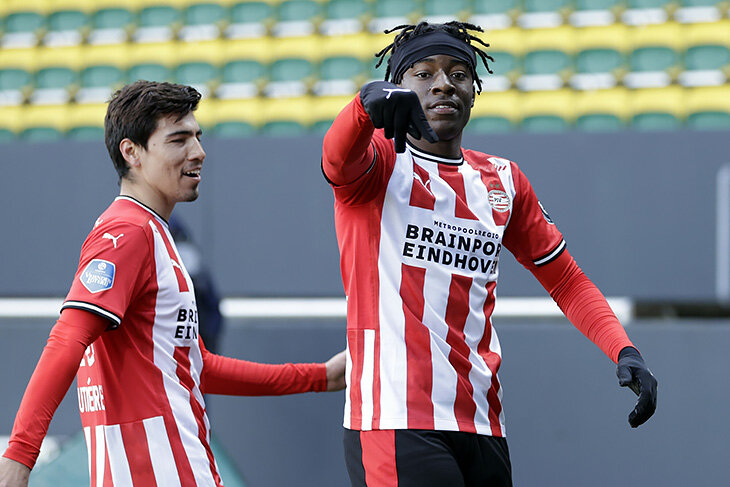 "I worked hard during the pandemic. It was not in vain – I returned, and in the first team it immediately began to work out. Now I just continue to develop, "Noni recorded his successes.
In the summer of 2021, he made a double to Ajax, then he suffered for a long time with injuries
Madueke was included in The Athletic's list of top ten Euro U21 talents in the summer of 2021, but failed to shine at the tournament – the winger played only 72 minutes, and England failed to qualify from the group.
The 2021/22 season got off to a great start for Noni, as PSV thrashed Ajax 4-0 in the Super Cup and Madueque scored a double. Immediately after, he signed a new contract with PSV and took the 10th number.
Until the end of September, the winger regularly played at the base of PSV, but then muscle injuries were covered: because of them, the Englishman did not play until February 2022. Despite health problems that season, Madueke scored nine goals and provided six assists.
Closer to the summer, Noni nevertheless figured out muscle problems, but in July he injured his ankle – due to damage, he did not play until October. This is the only reason why the winger's statistics in the 2022/23 season are not impressive: only two goals, but only 471 minutes on the field.