24

Jan, 2023
A fairy tale in Scotland: League 6 amateurs knocked out of the Aberdeen Cup! "I don't think I'll get enough sleep – I have to go to school in the morning
The Scottish Cup is the oldest football competition after the FA Cup. It is already 150 years old, everything happened there, but the recent match of the 1/8 finals will take its place in history.
On the way to the 1/8 finals, Darvel from the sixth division knocked out Aberdeen from the elite – 1:0. Between the two clubs there are as many as 56 places in the standings! There are often sensations in the Scottish Cup, but this one is one of the main ones for a hundred and fifty years.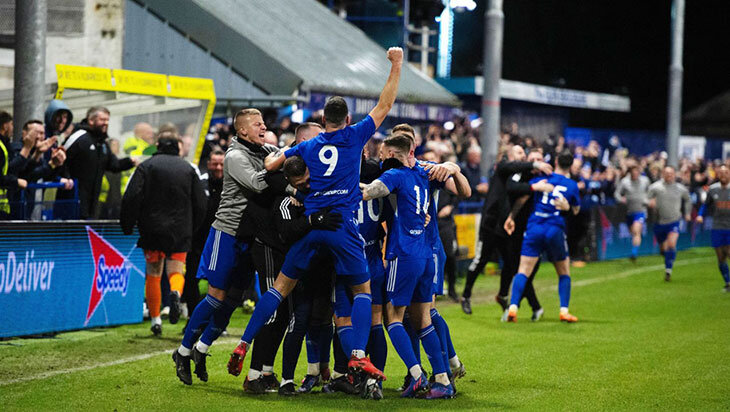 Interestingly, the record for the gap between the teams was broken just this season: Drumchapel United from the seventh league knocked out Edinburgh from the third – there are 62 places between them. But Darvel's achievement is more valuable because they kicked out the fifth team of the Premier League from the tournament.
Darvel has 4,000 inhabitants. The local club has been playing since the 19th century, but this is the main victory in its history
The hero of the match was 30-year-old Jordan Kirkpatrick, who in the 19th minute picked up the ball in someone else's penalty area, shot from a roundhouse and scored the only goal of the game.
Aberdeen players clutched their heads, and local fans were delighted. Even more, the stadium in Darvel went crazy as the winning tally lasted until the final whistle.
Darvel is a village of 4,000 for which the very arrival of Aberdeen has already become an event. What can we say about the victory over the only Scottish club, which has two victories in European competition (Aberdeen in 1983 took the Cup Winners' Cup and the UEFA Super Cup). Aberdeen have also been national champions four times, won the Cup 7 times and the League Cup 6 times.
But Darvel gave the Premier League team a fight across the board: 8:12 on shots, 3:3 on shots on target, 44% to 56% in possession. The village club started its way in the Cup with qualifications – and before Aberdeen they endured less formidable opponents very confidently: 3:1 in the preliminary round, 8:0 in the first, 7:1 in the second, 5:2 in the third and now now the sensation is in the fourth.
"I am very disappointed and humiliated," Aberdeen manager Jim Goodwin said after the match. – I don't want to talk about how bad my team's performance was, but I want to congratulate Darvel. They played superbly, fought desperately and fully deserved to win."
"We are talking about the magic of the Cup. These guys probably took the day off from work to prepare for the game. This is incredible to see," says ex-Scotland international Lynn Crichton.