14

Jan, 2023
A Dagestanian plays for France in the UFC: he speaks without an accent (although he considers Russian native) and went to fights with a flag 🇬🇧
Nassurdin Imavov storms the top 15 middleweight in the UFC. He was born in Dagestan, but he plays for France, although he used to have a Russian flag in his profile on the promotion website.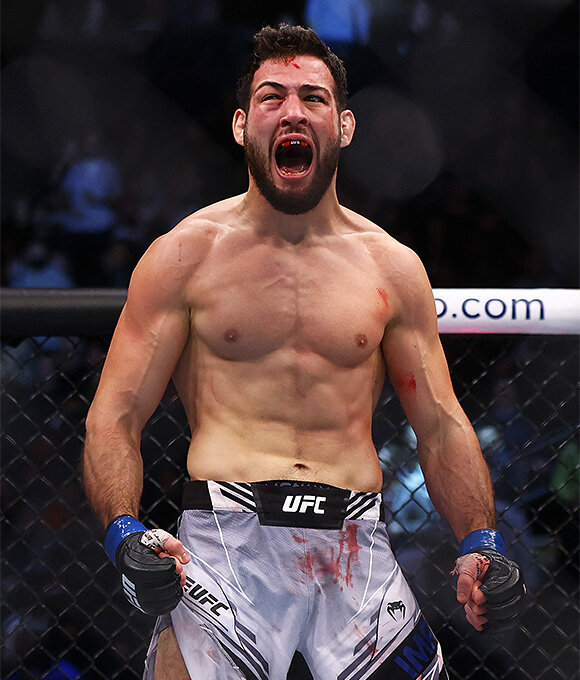 Imavov is an ethnic Dagestani, but Sean Strickland, whom he will face on January 15 at UFC Fight Night, highlighted his connection with France:
"Hell, I don't even know how to pronounce his name. What are the best French people? Give up. I know Imavov hits hard, but he's still freaking french, man. We've heard so many stories about how the fucking French are afraid.
Maybe he plans to prove otherwise. Perhaps he will say that his country is no longer afraid. Hell, I don't know. The only thing the French are good at is romance, giving up and losing fights. Damn, let's find out. Maybe he's different."
Imavov broke his peer's hand at school and learned to speak French without an accent in two years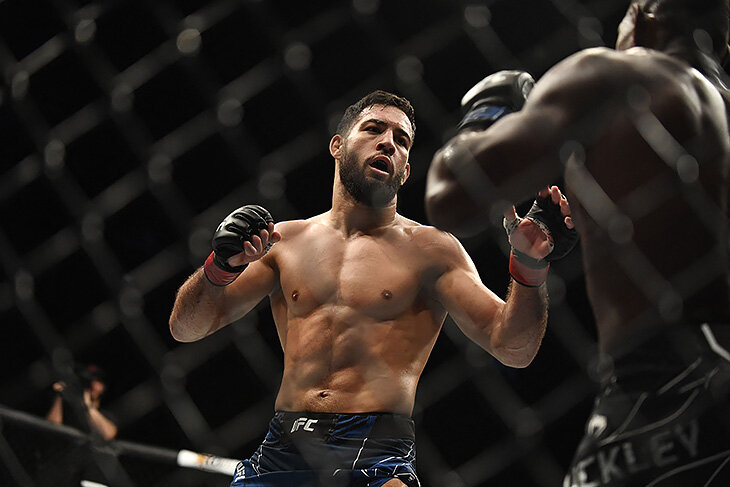 Nassurdin Imavov was born in Khasavyurt. This is how his childhood passed: "Mountains, fresh air with grandparents. Grandpa woke me up in the morning to run at the stadium, and I was very lazy (laughs)." But already at the age of 10 he moved to France, where he lived in the city of Salon-de-Provence, 50 kilometers from Marseille. The reason is the work of the father.
In France, Imavov immediately felt the difference in mentality and stood out in character against the background of his peers. There were many fights : "If they [the French] quarrel at school, then at first they will chat for two hours. And it was unusual for me, I immediately beat. Then I realized that they could chat like this for two hours, swear and leave.
Conflicts led to parents being called to school, contacts with the police and serious injuries: "I accidentally broke one lawless person, dislocated his arm. He was arrogant: climbed, climbed. Well … They called the parents to the police. But I was small, 12-13 years old."
Imavov learned French with ease, although 17 years later he retains a recognizable Caucasian accent when he switches to Russian. To speak fluent French, he spent two years. Despite living in France, Imavov considers Russian to be his native language. At home, the family speaks Russian, although sometimes in French. Communication with grandmother – in Kumyk.
Imavov has a recognizable Caucasian appearance, although he draws comparisons with the Portuguese or Spaniards: "Of course, they distinguish [who is French, who is not], they know that I am from Dagestan. Everyone already knows this. Outwardly, I look like a Dagestan, the first time I hear this (laughs). They recognize me as [a mountaineer]."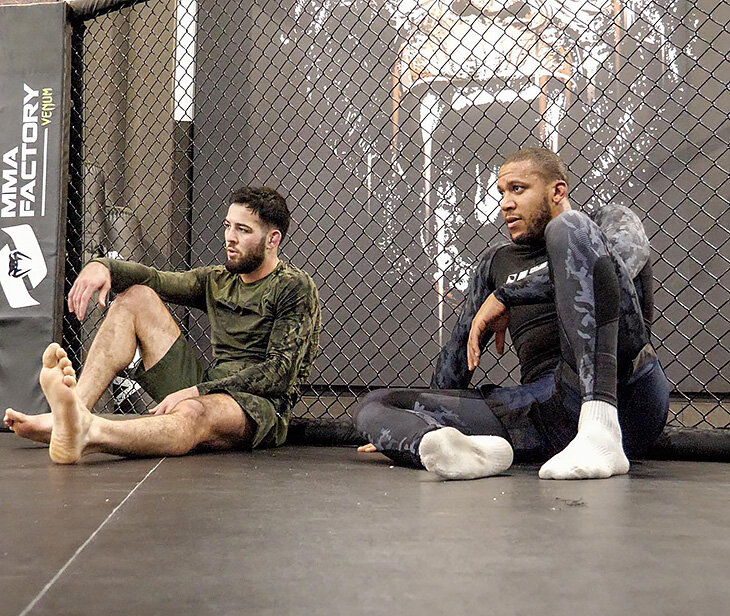 In September, Imavov, as a UFC fighter, fought for the first time in Paris. He considers France home, but used to fight with the Russian flag
In September 2022, before the fight against Imavov in Paris, Joaquin Buckley said: "I don't feel like I'm in enemy territory, because they love me in Paris. I do not know how long Nassurdin has been living in France, but he certainly was not born in this country.
Imavov is a Russian guy, Dagestan. Sometimes he even went to fights with the flag of Russia. A lot of people in France are asking me to knock him out so he'll be in enemy territory."
Imavov himself was not worried and won: "Before that, I fought only abroad, this will be my first fight in France, so I can't know exactly how this will affect me. Will it put pressure on me? I like the audience. It's going to be amazing, I'm looking forward to it."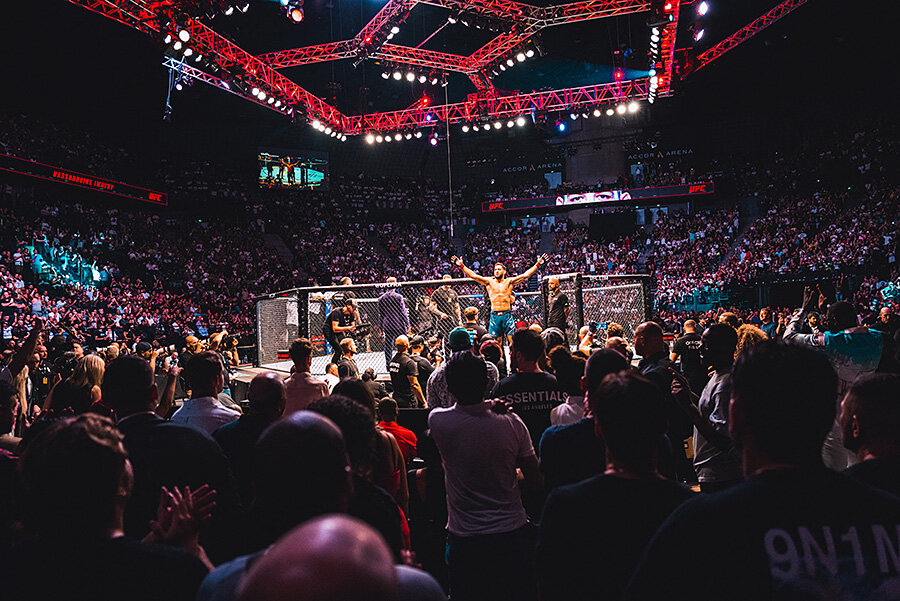 Imavov also made his debut in MMA in Paris, but lost. Imavov has been living in France for more than 15 years and considers it his home: "If you name one country, it is France. Because I have lived there most of my life. I grew up there. And I currently live there. I represent France, but do not forget that I am from Russia."
Trips to Russia are rare: "I was once about two years ago [quote from an interview in 2021]. I went to Dagestan. It feels like this is my home. Do you still have friends in Russia? No. During the last visit, I got to know one nice person, but otherwise there are no close friends in Russia.
He is actively supported in Russia. For example, before the fight with Buckley, Khabib Nurmagomedov approached him. Buckley provoked Imavov on social networks and received a response with a reference to the roots: "How do you say in American "shut your big mouth"? We'll talk about it on September 3rd. It is clear that in our culture, in the Caucasus, insults are too much. This throws me off balance."
In Paris, Imavov lived with his brother in a seven-meter apartment and sparred with Ngannou and Gan. For the accuracy of his strikes, the coach called him the "Russian sniper"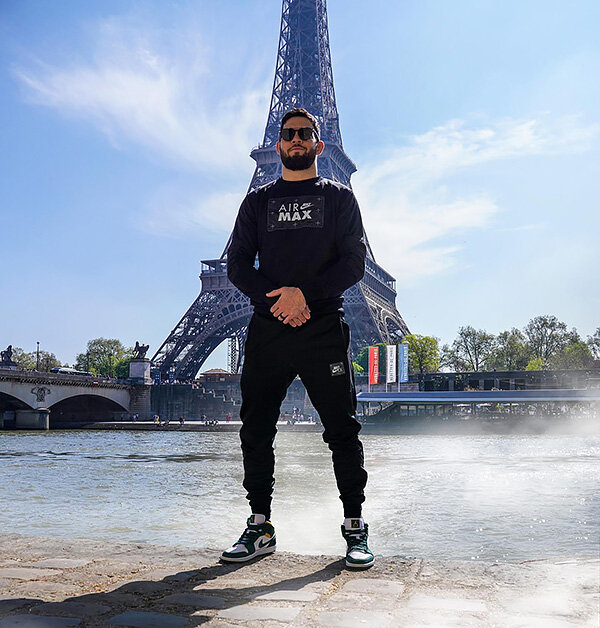 Imavov's father is a boxer. There was a gym in Salon-de-Provence near their house, so Imavov took up boxing. So he trained until the age of 17, until he switched to MMA. He was inspired to do this by his brother Dagir, who by that time was already engaged in mixed martial arts.
Together with his brother, Imavov moved to Paris and immediately got into one of the best halls in the world of MMA Factory. There they trained with its founder, Fernand Lopez. "I immediately fell in love with them, with their physical qualities, with their self-sacrifice," recalled Lopez.
For several years, Imavov  lived in a seven-meter room right in the nine-story building in which the hall was located: "We did not care about comfort, we already had it [when we lived] in the south. All we needed was a roof over our heads and training. When you train all your life, you don't need a very large apartment. Fernand was furious (laughs). He said he would bring a mattress so we could sleep in the gym."
Imavov progressed – over time, this made him the main sparring partner of Francis Ngannou and Cyril Gan. Coach Lopez said: "There is a contrast. During training, he is like an alpha male, but at the same time very modest, calm and simple. It is very interesting. He is open and pleasant to other people."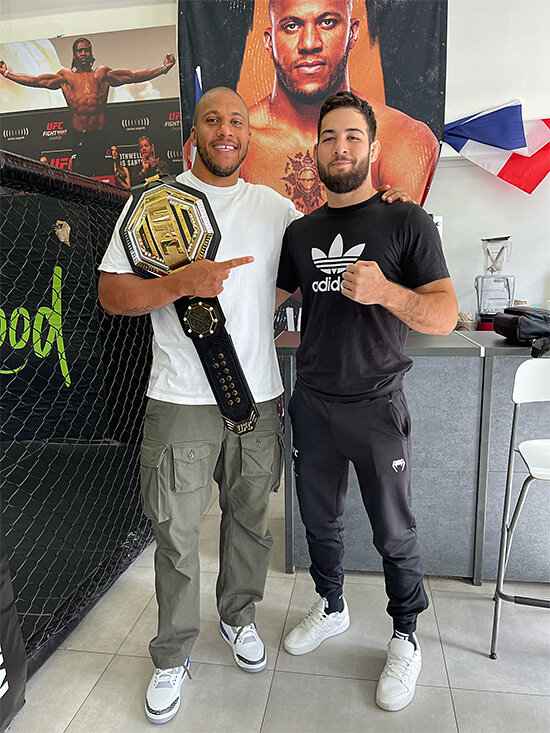 In 2019, Imavov won the Thunderstrike Fight League title and became the best middleweight in France. This promoted him to the UFC. Nassurdin is a bright drummer who combines high tempo with exceptional precision. So the nickname "Russian Sniper" was assigned to him, which was given by the coach after the first training session:
"When I first arrived at the Parisian MMA Factory, they did a preview sparring. The coach looked. He noticed that I landed a lot of clean punches to the chin and immediately gave me a nickname."
A Dagestanian from England, a Chechen from Sweden and an Armenian from the USA are fighting in the UFC
• Khamzat Chimaev is a Swede of Chechen descent from third place in the welterweight division. A 12-0 streak in MMA and status as one of the main assets of the UFC.
• Muhammad Mokaev is a Briton from Dagestan who is ranked 14th in the flyweight division. A 22 year old fighter with a 9-0 record. He spent less than a year in the UFC, but has already taken three wins and called most of the top divisions to fight.
• Ilia Topuria is a Spaniard with Georgian roots who moved up to ninth in the featherweight division. Topuria's victory over Bryce Mitchell ended the American's career at 28:
"I regret. I know that I could have done better. It hurts me so much: I don't think it's worth continuing, so I want to quit MMA. I need to put the attention I've been wasting every single day on this into something else."
• Edmen Shahbazyan is a US fighter with Armenian roots. He recently lost to Imavov by TKO in the second round.